World Radio Day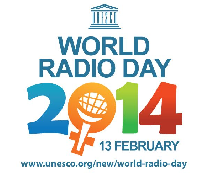 On February 13th, we will celebrate World Radio Day! Join us for this celebration and tell us, in less than 60 seconds, what radio means to you!
February 13th has been chosen by UNESCO to celebrate World Radio Day and to draw public attention to the importance of radio, without which many people would not have access to information.
On World Radio Day, we invite you, dear friends, listeners and Internet users to upload short recorded messages on the importance of radio on the official website that has been created specially for this event www.wrd13.com, to send your written messages or e-mail audio attachments at our regular address, engl@rri.ro, or to post them on RRI's Facebook page.
The most interesting texts and audio messages will be broadcast in a special program on RRI around February 13th, 2014.
Also, if you have royalty-free personal photos illustrative of the role played by radio in your life, please send them to us in an electronic format, accompanied by the necessary explanations, in order to create a photo gallery on RRI's website and to post them on our Facebook, Flickr and Pinterest profiles.
www.rri.ro
Publicat: 2014-01-29 17:37:00
Vizualizari: 1202
Tipareste