The Annual Report of the Romanian Army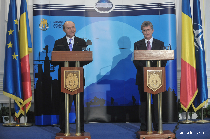 Improving the response capacity of the Romanian Army in the context of the Russian annexation of Crimea is a priority, says Romania's President, Traian Basescu.
The main idea emphasised by President Traian Basescu at the presentation of the Defence Ministry's annual report was that, "whereas so far the major priority of the Romanian Army was to complete missions abroad, from now on this goal must be accompanied by a new one, that of constantly enhancing its response capacity." The head of state pointed out that this is "not because Romania would be attacked by anyone, but when east and north of our country's borders events take place like those leading to losses of territory, by a neighbouring state, in favour of the Russian Federation, this cannot leave political leaders and the Army without a reaction."
Traian Basescu: "We can no longer see the incidents of 2008, when the Russian Federation occupied Abkhazia and South Ossetia, as isolated occurrences. Ukraine was next, so all politicians and all military strategists are bound to ask, who will follow. Could it be Transdniestr, could it be the Republic of Moldova? These are questions anyone may ask. The unpredictability of the Russian Federation prompts us to look at various scenarios and response options."
According to Traian Basescu, this requires additional resources earmarked through the next budget adjustment, as well as good planning for 2015. The statement comes in the context of difficulties in terms of funding military upgrades in the past few years. The budget of the Romanian Army, which has so far failed to reach 2% of the GDP, the level agreed on with NATO, is 1.4% of the GDP this year.
Defence Minister Mircea Dusa: "In 2013, according to a strategy endorsed by the Supreme Defence Council, we started to earmark more funds to the National Defence Ministry and designed a roadmap for Army modernisation until 2016 and even until 2022, so that the modernisation and restructuring of the Army may become compatible with NATO standards."
Mircea Dusa mentioned that during the 10 years of NATO membership, Romania has built a modern and efficient army, with experience in theatres of operations. According to him, so far over 40 thousand Romanian troops have taken part in international missions.
www.rri.ro
Publicat: 2014-03-28 12:15:00
Vizualizari: 161
Tipareste