The UNITER Awards Gala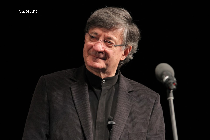 UNITER, the Theatre Union in Romania on Monday awarded its prizes to the best productions and artists in 2013.
The Palace of Culture, an impressive building for that time was erected in the central city of Targu Mures between 1911-1913, becoming one of the most representative buildings in that Transylvanian city. The Palace has an 800-seat Grand Hall with a gigantic organ, a Small Hall, a Mirror Hall and a City Library. Its façade is decorated with bronze and stone mosaics and bas-reliefs, frescoes and stained glass windows.
In 2013, the centennial of the edifice was marked by exceptional cultural events. On Monday evening, the Palace of Culture in Targu Mures hosted the 22nd UNITER Awards Gala, the most important and awaited annual event of the Romanian theatrical world. After Sibiu, European Capital of Culture in 2007 and Iasi, in North-Eastern Romania, another pole of Romanian culture, in 2013, it was the turn of Targu Mures to host the celebration of theatre people this year. "Victor or Power to the Children" by French playwright Roger Vitrac, put on by Silviu Purcarete at the State Hungarian Theatre in Cluj-Napoca, was designated the best production.
Cornel Raileanu got the best lead actor award for his role in "A Hell of a Mess" by Eugen Ionesco staged also by Silviu Purcarete but at the National Theatre in Cluj-Napoca. The best lead actress award went to Alexandra Fasola, the youngest of the nominees, for her role in "Yentl" at the State Jewish Theatre in Bucharest. Two short-stories by Mikhail Bulgakov "The Embroidered Towel" and "The Steel Windpipe" produced by Radio Romania reaped the best radio drama award. The best directing award went to Laszlo Bocsardi for "Hamlet" staged at the "Tamasi Aron" Theatre in the central town of Sfantu Gheorghe.
The Excellence Award was granted to the popular actor Victor Rebengiuc, who was given a standing ovation by the 500 personalities invited to attend the Gala. As the president of UNITER and permanent host of the Gala, actor Ion Caramitru said in a recent interview, during the communist regime, Romania was a privileged space, maybe the only one where people could watch a demonstration of the freedom of the spirit. Then, shortly after the 1989 revolution, fascinated by the political and media show, the audience started to defect from theatre halls.
A revival was needed under the circumstances, which occurred with the return home of great theatre directors like Andrei Serban, Liviu Ciulei or Lucian Pintilie and with productions catering for all tastes. At present, theatre halls are full again and Romanians are willing to discover the world cultural wealth through theatre too.
www.rri.ro
Publicat: 2014-04-29 15:19:00
Vizualizari: 110
Tipareste