The Zurli Gang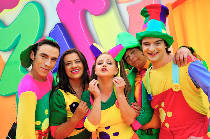 An alternative to traditional children's theater.
The most popular children's theater company in Romania has the simplest of definitions: 'The Zurli gang is the nicest group of grown-ups doing wonderful things for children.' We're not just talking about any theatre play. These are interactive shows where children clap, turn towards their parents and sing, make noise, in other words, they get involved, they're not just simple spectators sitting down in the dark somewhere for an hour. At the end of the 60 minutes, the children have followed a narrative, have sung as loud as they wanted to, and leave the play filled with an energy they carry home. Irina, a regular theatergoer who has not missed a single premiere in the last 6 years, said: "You know what I like most about the Zurli Gang? You can read the happiness all over their faces". We asked Mirela Retegan, also known as the Presenter, to tell us their recipe for success:
"As far as I am concerned, the recipe for success is acting natural, normal, the way in which we approach the relationship between children and parents, the serious attitude that we have towards playing, and simplicity. The Zurli Gang gives you one hour in which parents and children unplug from everything that bothers them before coming to the show, but, as opposed to other companies with other policies, ours has a double message. The parents understand one thing from what we say on stage, the children understand another thing, but it is ultimately the same thing, we are talking about the same issue. We create emotion, children and parents both leave our shows with a smile on their faces, each for their own reasons."
Zurli, the little girl, is at the center of all the tales. She has 7 play pals closely supervised by the Presenter, the master of ceremonies and at the same time the embodiment of the mother watching over the children and protecting them against any evil that may befall them. Even though they are grown-ups, each of them embodies a type of personality that parents have to cope with every day. Mirela Retegan told us about how she met Vero Caliman, the girl who plays Zurli:
"I met Vero at the beach, at a playground, I saw her talking with a child, I loved her energy, and the way she dealt with that kid, and I asked her what she did for a living, and she told me that she worked there. I told her to look me up at the end of the summer, when she came to Bucharest. I had always wanted to put together a theatre company of adults putting on shows for kids. Veronica was the trigger of the entire enterprise, because we built the character of Zurli, the little girl, just as we did with the other characters, but she is protagonist of our plays."
Before becoming Zurli, Vero Caliman could not find her place. She said that meeting Mirela Retegan changed her life:
"I have a long history of working with kids. I earned my first money at 11 and a half, when I started babysitting a neighbor's child, which I liked a lot. I've always had a special bond with children. I worked for three years at Concordia. I was 18, I was very young and it was an extraordinary experience, but that was as much as it was ever going to be. I spent the entire weekend with them, Friday to Sunday, and it was hard to describe, they called me 'mommy'. It was hard for me, at some point it became too much. Many of them had lots of problems, I myself was a child. Sometimes I could manage situations, other times I was in way over my head. When I went to the seaside I saw my colleagues at work for the first time, and that is when I realized that this is what I would like to do for a living. When I came to Bucharest I was caught in a whirlwind. My life changed completely. The first thing I wanted to do is call my mother and tell her: that's it, I found the thing I want to do."
According to Mirela Retegan, Vero is the embodiment of all the little girls of the world. Little girls who ask questions, who don't want to tidy up their room, who want to save everyone, including the Evil Witch. Mirela Retegan told us about the characters:
"Zurli is the youngest child, the spoiled child in the household, she gets all the sweets, all the toys and all the attention. She is not a naughty child, she is a curious, daring child, spoiled when she wants to get whatever she wants. Zurli embodies all the little girls we know, and we did not get to be. Tinkerbell is the kid with the riddles, and is a know-it-all. We don't get into school stuff, we don't want to scare off the kids, who are fed up with how much education they get to begin with. Tura Vura is a counterpoint to the Fairy Godmother, and in our shows she is just an example of what not to do, she is not meant to scare the kids, the evil witch who's supposed to visit them if they won't go to bed on time. She is just a ridiculous character, the type we see all the time in society, in everyone we don't want our children being exposed to, and which we would like them to identify as fast as possible in order to avoid them."
"Zurli Gang" first started with animation at events and parties for children. Then came the small theater plays staged at the Romanian Peasant Museum. Then they started to go around Romania with a campaign called 'Here's a book, pass it on." The venues for their shows started getting too small for the crowds that came. Then followed a TV show, then a CD with evergreens of childhood, as Mirela calls them, but also with original songs that turned into huge hits overnight. Their last blast was a flash mob of 2,000 people who will appear in the video for the song "I have a small house", which is already a hit among children. Mirela told us that right now the sky is the limit:
"I had a plan ever since I set up the Zurli Gang for children's parties, down to everything you see now. My latest plan is a Zurli amusement park outside Bucharest in a forest, where we want to make a place showcasing everything we've worked to achieve all these years. It would be great for Zurli to actually exist, to be a help for moms all over the country, because children need role models, and I have always wanted to have role models for children in Romania. Something like an older Minnie, or a less flashy Hanna Montana. We want to build something that would be more Romanian."
Don't be surprised if one day, walking down the street, you see a minibus with the logo "Zurli Gang" on it. Until then, all you need to do is pick your favorite childhood song and whistle along.
www.rri.ro
Publicat: 2014-06-08 14:00:00
Vizualizari: 482
Tipareste