The Candy Cab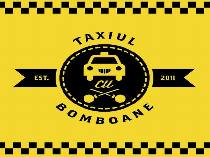 Tips and tricks taxi drivers use to appeal to clients.
Tens of thousands of cabs are running on the streets of Bucharest. Like everywhere in the world, taxi drivers have very interesting personal stories to tell. Most of them are former engineers or teachers. You should not be surprised when, getting on a taxi, you are welcomed in a foreign language or the taxi driver makes interesting conversation on any topic, from football to philosophy, history and politics. Taxi drivers are good at everything. Competition is fierce, that is why they are trying to make their customers faithful.
Today you will meet Cristian Roman. He used to be an engineer before the December 1989 change of regime, which made him go for a different job. The same happened when the economic crisis hit the world in 2008. At that time Cristian Roman had invested time and money in a study about introducing a new type of wood into the golf club making industry called 'Wallachian Willow'. Unfortunately the crisis scattered his plans and money, so he ended up a professional taxi driver. Cristian Roman:
"As I had no choice but become a taxi driver, I wanted to do something special. Taxi driving is 90% routine, so I had to come up with something special. But how? I started to offer wrapped candies. If those who travel in my car for 5 up to 10 minutes feel good, part of their state of mind will remain in the car. Which makes me happy too, given that I spend 10 up to 14 hours driving this car. So my passenger becomes my guest".
This is how Cristian Roman's taxi turned into a "Candy Cab". Actually that was not the first candy car that he was driving. His story goes way back, in the early 1990s:
"Back in the 1990s there were many street children who were cleaning the cars' windscreens at the traffic lights, actually that was a disguised form of begging. So I decided not to give them money, which would end up in the hands of their 'managers' but offer them candies instead. So, my personal car had become so popular in the Piata Unirii area that all the street children there would shout "look, here comes the candy man" when seeing my car from a distance."
Today there are very few people washing cars' windscreens at the traffic lights any more. Cristian Roman is now waiting for his customers with colored post-its and candies. He gives grown-ups coffee candies and offers fruit or jelly candies to children. Of course, they have to make drawings to get any. Cristian Roman:
"I give children as many candies as they want, irrespective of the number of drawings they make. They wouldn't get out of the car when they reach their destination. Very often I hear them asking the adults who accompany them to allow them to make one more drawing before they go. You can't imagine how much joy a happy child can bring you. And when they ask you not to leave, your heart melts."
There is a special prize for grown-ups who agree to draw pictures. They get the queen of candies – a chocolate and mint candy. Those who recognize a song picked by Cristian Roman, are also rewarded big time – they get all the candies from the basket. Cristian Roman:
"A young girl surprised me the most and got all the candies. She was around 10 and was studying piano at the Dinu Lipatti music high school. I asked her to listen carefully to what the CD was playing and I promised her that if she was able to guess who was the pianist, an artist mostly known as a composer and singer, I would give her all the candies I had. She had three tries. She mistaken him for somebody else on her first try, she was quite close to the truth on her second and then she finally whispered: Ray Charles. I kept her in suspense for a little bit and then told her: "You've ruined me, you've won all the candies!" Imagine, a 10-year old, who knew who Ray Charles was and even had a favourite song from his repertoire!"
Of course, not everyone recognizes the songs, and not everyone draws. Cristian Roman wonders if he has met the perfect spoilsport:
"There are very few, because each taxi gets the passengers it deserves. I had spoilsports that I managed to get into the game, due to the energy that lingered in the car, and some who were sorry they didn't get in the game, but I didn't have anyone too opposed to the idea."
The drawings made by Candy Cab riders are laminated and sold as part of thoroughly designed programs, as Cristian Roman told us:
"There were two programs: the first was a fundraiser at a day care center, with the amazing first bid of half a leu, and we got candies for kids for June 1st. Now we are preparing a second program, an exhibition at Serendipity Tea House: bookmarks traded for books for kids, which do not necessarily have to be new or in good condition. They go to Bucharest hospitals, and maybe to other cities too, if we have enough of them. We plan on actually setting up a Candy Cab Library."
This is the story of candy taxi man Cristian Roman. If you happen to catch a ride with him, don't turn down the game. Try to win the candy queen. There is nothing like the taste of mint flavored coffee and chocolate candy.
www.rri.ro
Publicat: 2014-09-14 12:49:00
Vizualizari: 340
Tipareste