Romanian Motorcycles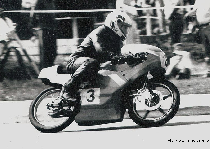 Motorcycling, like many other 'cyclisms', is more than a hobby, it's a way of life. Passionate riders can be recognized by their specialized gear, the helmets, the leather outfits, the boots, the goggles, the knee and elbow pads. Bikers are part of a grou
The history of Romanian motorcycles begins before WWII. Tohan Industrial Works was founded in 1938 in Zarnesti, in central Romania, as a subsidiary of the Malaxa group. It specialized in making bicycles and motorcycles. Tohan products became famous during the war, when they made munitions, pyrotechnics and rockets for the Romanian army. After 1948, when the factory got nationalized, Tohan continued making bicycles. Before 1945, Romania had mostly German and French motorcycles, while during the war the most popular by far were Zündapp.
After 1945, the Romanian market was flooded by Soviet products, many of them copies of Western-manufactured goods. One of these products was the IMZ-Ural motorcycle, which started being made in 1939 under license from BMW. Another Soviet motorcycle on the Romanian market was the Minsk, in addition to Javas and CZs, made in Czechoslovakia, as well as MZs, made in East Germany.
The star among Romanian motorcycles was the Mobra 50, which went into serial production in 1971, on the assembly lines at Tohan Industrial Works. Previously, Tohan had tested successfully another light motorcycle, the Carpati, which it produced in the late 1960s. The Mobra had a 50 cc engine, and was made at Metrom Brasov, not far from Tohan Zarnesti.
The name Mobra was a portmanteau of Mo from Motorcycle and Bra, from Brasov. The Mobra had 4 HP, four gears, and a top speed of 70 km/h. It had excellent fuel consumption, at 2.7 liters per hundred kilometers, and autonomy of 450 km. It sat two, and in 1971 it cost 6325 lei, the then equivalent of 530 USD. It was an austere machine, with minimal design and performance, a true product of socialist industry. It had two versions, the Mobra 50 Super and the Mini-Mobra. It had a very noisy engine, but that did not hinder its popularity. However, it was the butt of countless jokes, which were in fact jokes aimed at the economic system it was a product of, in which quality was not a priority.
An improved model was the Hoinar (The Wanderer). It went into production in 1976, and was discontinued in 1994 as obsolete, but also as a victim of the collapse of industry. The Hoinar was similar to the Mobra: two-stroke air-cooled engine, 49 cc capacity, with 5 gears. It topped 70 km/h, and had an autonomy of 450 km as well.
The Mobra also ran in competitions. Octavian Vrajitoru ran on a Mobra, and won 19 national champion titles and one Balkan championship title. There was also a hybrid being used in competitions, a machine with a Mobra engine mounted on a CZ frame. It only ran in the 50 cc class, because that was the only engine made by Metrom Brasov. Today it would be classed as a scooter, and would not be considered a true motorcycle.
Romanian motorcycles, however, also have a lesser-known history. Engineer Sorin Tulea designed a motorcycle while he was doing time as a political prisoner in the infamous Aiud prison. He and two other inmates, engineer Adrian Stambuleanu and Commander Costel Nicoau, were provided with the materiel necessary to design a motorcycle from scratch. To everyone's amazement, they did a crack job. Miraculously, the motorcycle has been preserved, and is on display at the Sighet Victims of Communism Memorial.
As many other socialist industry products, the Mobra still has its nostalgic fans, but less and less people own a Mobra, and even less use it. The Mobra shared the fate of the famous Trabant, and ironically the passage of time made them more valuable for some.
www.rri.ro
Publicat: 2014-11-15 14:40:00
Vizualizari: 1082
Tipareste