World of Culture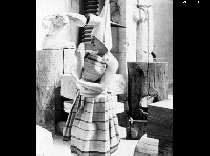 Ballet Dancer Lizica Codreanu in Brancusi's Studio
In 1922 the Romanian-born sculptor Constantin Bracusi made a special dance costume for Lizica Codreanu, played a vinyl recording of Erik Satie's Gymnopedies and invited the dancer to do a one-off performance in his studio, among sculptures. Using a rack-and-pinion Thornton Pickard camera, Brancusi captured the performance in seven photographs. In 1996, the director Cornel Mihalache used the images taken in 1922 to recreate Lizica Codreanu's outfit and proposed to dancer and choreographer Vava Stefanescu an apparently impossible reenactment of that dance performance in the sculptor's studio, on Satie's music.
The National Dance Center in Bucharest has recently staged an event focusing on the choreographer and dancer Lizica Codreanu.
The meeting was part of the National Dance Center's Hors les Murs (Outside the Walls) program, launched in 2014, through which the Center seeks to go beyond the walls of its own building and approach topics off the beaten track.
The event brought together director Cornel Mihalache, researcher Doina Lemny and choreographer Vava Stefanescu, in a talk moderated by Igor Mocanu.
Igor Mocanu: "We devoted today's edition to Lizica Codreanu, whose outstanding role in the history of Romanian dance was largely unknown until recently, at home or in the Diaspora. The Hors les Murs program specifically set out to focus, through its talks but also through dance shows, on a history that we know little about."
In 1995, while working on a documentary film entitled "Brancusi," the director Cornel Mihalache discovered photographs of Lizica Codreanu's dance. Mihalache asked Geta Solomon to recreate the costume, and the choreographer Vava Stefanescu to reenact Lizica Codreanu's dance.
Vava Stefanescu: "I was about 25. I had no idea I was doing a re-enactment and that in the future I would be developing such a strong concern for retrieving major works and personalities in the history of dance. And I couldn't have known that whenever you try to do research work, all you have is black holes. I was very happy I had little information, because this gave me the freedom to create. I was guided by Cornel Mihalache and Erik Satie. And, as you can imagine, I kept the costume with some sort of religious sentiment, as I had the feeling I was clad in one of Brancusi's sculptures."
Two years ago, the Vellant Publishers launched the volume "Lizica Codreanu. A Romanian Dancer in the Parisian Avant-garde," a book that had already been released in France. Its author was Doina Lemny, a researcher based with the National Museum of Modern Art, in Pompidou Centre in Paris, and a specialist in Brancusi, about whom she has written several books. No wonder that she discovered Lizica Codreanu while looking into the Brancusi archive. The fact that nobody knew who she was captured her interest, and she began looking for relevant documents.
Doina Lemny: "The research was rather hard to carry out, because in the early 20th Century there was no ballet school that Lizica attended, so I had no one to talk to. I tried to find out more about her life, which for me seemed very interesting from the very beginning, given the relationship between Brancusi and Lizica and Irina Codreanu. The two basically lived all their lives together, so I tried to discover more about them. Two very brave women, who embarked upon an adventure in Paris, with little support, and managed to meet Brancusi. I believe that was the peak moment of their lives, as it was thanks to him that both of them become well connected in the Parisian avant-garde. I used some documents that Lizica's son and nephew showed me, original posters, photographs and very few letters. Two or three of them were documents from Tristan Tzara. And on that occasion I spotted Lizica in a photograph we can find at MOMA".
Lizica Codreanu's career as a choreographer and dancer was brief. It ended in 1927, when she married a brilliant French Intellectual, Jean Fontenoy, whom she accompanied on his mission to China. But when the two broke up, Lizica retuned to Paris. A resourceful personality, she never complained, but opened a Hatha Yoga parlor, under the supervision of one of the greatest yoga specialists. It was the moment when in the early 1930s yoga came to be known in Paris.
Doina Lemny: "Her son tried to talk me out of it, telling me that Lizica did not have a dance career proper. Which is true. She was like a falling star. She used to dance mostly in Brancusi's studio and caught the eye of very well known artists, like Sonia Delaunay, who at that time was a costume designer. She drew the attention of Fernand Leger, but Lizica did not want to wear an outfit designed by him. Leger designed costumes for ballet performances, but his approach was rather rigid. As for Lizica, once she reached Paris, she quickly understood what was going on in the artistic circles and simply put ballet aside. She never went to a ballet school. Quite the contrary, she took up circus training…she used to chat with artists…She practically immersed herself in a creative atmosphere. An artistic and resourceful personality, she used to train in Brancusi's workshop, and this fascinated him".
The book had a tremendous response in France.
Doina Lemny: "My colleagues with the Pompidou Centre, whose research work mainly focused on Sonia Delaunay, on Leger, were very interested in the connection between the costumes Sonia designed, and that artist that nobody knew much about. Apart from the Pompidou center, I have been invited to lots of conferences and debates. I became Lizica Codreanu's spokesperson, and everybody is impressed with those extraordinary images, with the groundbreaking innovations the artist came up with, in terms of performance, motion and dance."
The manager of the National Dance Center in Bucharest, Vava Stefanescu, speaks about Lizica Codreanu's place in contemporary Romanian dance.
Vava Stefanescu: "It seems to me that she represents something, symbolically speaking. Namely, that kind of fluidity and mobility between worlds, artistic realms, ideas, between perspectives on the body, which I believe is, to a certain extent, what artists today are trying to do."
www.rri.ro
Publicat: 2015-01-31 14:33:00
Vizualizari: 2356
Tipareste