Mariano Castro of Argentina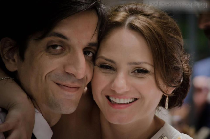 Mariano Castro is a musician from Argentina who chose to settle in Romania two years ago.
Mariano Castro is a musician from Argentina who chose to settle in Romania two years ago. Born in Buenos Aires, Mariano is the pianist of a famous band, "Narcotango", a Latin Grammy Awards nominee in 2009 and 2010 in the "Best tango album" section. The group toured America and Europe, including Romania. Mariano recalls:
"I came the first time in 2009 for a concert with 'Narcotango', a really big concert, with around 2,000 people, but I just came for three days. Then I returned in 2011, with another show with 'Narcotango'. It was also a big production in the Summer Theatre in Herestrau. Among the producers there was a beautiful woman and we fell in love almost immediately. And since that moment we are together. For two years already we are married, we got married in Argentina. We decided to live here. But we're always traveling to Argentina. Many people ask me why are you here in Romania? Because you like Romania? And I tell them 'Yes, I like Romania, but in fact I'm here because I found my wife here. I don't feel that thing of missing so much my land and my tradition. I'm discovering new things, which is really also very nice".
Mariano's passion for music was inspired by his grandmother, a tango pianist in the golden years of tango, the 30s, 40s and the 50s.
"I started very young with the guitar and then I realized I would like to play the piano. Nowadays I work more with the piano, because as a professional it gives me more work than the guitar but all the time I play it, because it was my first instrument. There is almost like a law in Buenos Aires that says that the one who plays never dances, and it's like 90% true. I dance with my hands. I make a sort of choreography when I play, but no, I don't have talent, just for soccer, a little bit. But not for that. 'Narcotango' started in 2003 and I became part of the band in 2007. The intention of 'Narcotango' was to show contemporary tango, with contemporary elements, but keeping the elements of traditions, which was lost in most of the new, modern bands. Until now we have more than 30 international tours, we played in different types of places, from very small venues for 10 people to the Lincoln Center in New York."
As a genre, tango is less popular in Romania. However, Mariano Castro is thrilled with the reaction of his audience.
"Thanks to everyone here, because I really had a beautiful concert. With 'Narcotango' we arrived to play in the Sala palatului Concert Hall in a very beautiful concert and now I'm constantly trying to make things because I see tango music growing in some sense, because there is a tango scene, with dancers. There are between 600 and 800 active tango dancers here in Bucharest. They keep the tango alive. Maybe they don't know the songs, but they understand the feelings and the message".
Astor Piazzolla's "The Seasons" in Mariano's original interpretation was very well received last year, when the piece was premiered in Romania. Performing were Liviu Prunaru on a Stradivarius violin and Gabriel Croitoru on a Guarneri violin. The concert was held as part of the "Violin duel" organized by Radio Romania.
"People received us very nice, it was a great success – these two great violin players playing Piazzolla in such a high level of interpretation. So it was a really great experience for me to listen to my arrangements and this music that I could write with such great musicians and played so well. We must be 'soldiers' of music, and that means to be modest, because we must work on the beauty and excellence as well as much as we can. I'm a soldier of music. I try to do my best".
An honorary citizen of Buenos Aires, Mariano Castro has many projects in Romania and abroad. He also told us about his dream
"For many people tango means the dance, or this tango of the movies, which is kitsch in some sense. But musicians from Buenos Aires, we play another kind of tango, which is much closer to classical music than to this tango of the movies. Little by little I'm making projects and concerts, trying to arrive, each time, to better concert halls. And I hope I can soon come and play at the Athenaeum, here in Bucharest".
www.rri.ro
Publicat: 2015-04-26 19:40:00
Vizualizari: 795
Tipareste