December 27, 2015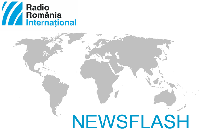 For a roundup of domestic and international events, click here.
CELEBRATION – Over 400,000 Orthodox and Greek-Catholic Romanians celebrate their name day on the feast day of Saint Stephen, coinciding with the third day of Christmas. Stephen was a contemporary of Jesus Christ and his apostles and was one of the seven deacons appointed to serve in the first Christian community in Jerusalem. Saint Stephen was accused of blasphemy by the Jewish clergy and was stoned to death, becoming the first Christian martyr.
BATTLESHIP – The Romanian Coast Guard battleship Stephen the Great left the port of Constanta on a 90-day international mission in the Mediterranean Sea. The battleship is due to take part in the TRITON 2015-2016 patrol operation coordinated by FRONTEX, the European agency managing the EU's external borders. The TRITON operation is aimed at curbing illegal migration. This is the eighth international mission for the Stephen the Great battleship.
ALERT – The Austrian authorities have raised the security threat level in Vienna and other cities in the wake of a terrorist alert surrounding Christmas celebrations. The Austrian police say terrorists would target crowded public areas, such as airports. The warning was made public six weeks after the Paris attacks, when 130 people were killed.
TENNIS – Romanian tennis players Irina Begu, Monica Niculescu, Andreea Mitu and Patricia Tig will take part in the Shenzhen tournament in China, scheduled to take place between January 3 and 9, totalling 400,000 dollars in prize money. According to organizers Begu and Niculescu are seeded as favourites. Andreea Mitu will also be playing in the main draw, while Patricia Tig will play in the qualifiers. The best-known tennis player from Romania Simona Halep, who in 2015 won the competition in Shenzhen, is seeded first in the Brisbane tournament in Australia, a tournament taking place during the same period and totalling over 900,000 dollars in prize money.
TITLE – Jamaican athlete Usain Bolt and US tennis player Serena Williams have been designated Champions of champions in 2015 by the prestigious French daily L'Equipe. This year, Usain Bolt won three world champion titles, in the 100m, 200, and 4x100m races, while Serena Williams won four Grand Slam tournaments. In 2014, L'Equipe designated French pole vault jumper Renaud Lavillenie and US swimmer Katie Ledecky champions of champions.
FLOODS – Over a hundred thousand people from four South-American states were forced out of their homes in the wake of the most devastating floods in the last 50 years in the region. The authorities in Paraguay, the country most hit by the floods, claim the El Nino phenomenon is behind this series of extreme weather events, which are even more powerful than summer thunderstorms. The capital city Asuncion has been completely flooded, after a state of calamity has been declared in several other regions. Other countries currently affected are Argentina, Brazil and Uruguay.
(Translation by V. Palcu)
www.rri.ro
Publicat: 2015-12-27 12:00:00
Vizualizari: 198
Tipareste