Athlete of the Week on RRI – Tennis Player Monica Niculescu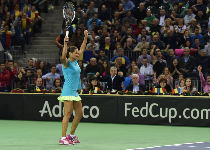 Monica Niculescu had a solid performance in the Fed Cup match against the Czech Republic
The Romanian women's team on Sunday missed on a historic opportunity to qualify to the Fed Cup finals. The team coached by Alina Tecsor lost narrowly 2-3 the match against the defending champions the Czech Republic.
The first match was scheduled on Saturday in Cluj. In front of a 7,000-strong crowd, WTA 3rd ranked Simona Halep lost the singles match against Karolina Pliskova, 13th ranked in WTA standings. Pliskova won 6-7, 6-4, 6-2. In the second game, Monica Niculescu, 37th ranked, grabbed a remarkable win over Petra Kvitova, 9th ranked, 6-3, 6-4. On Sunday, Simona Halep picked up her game to defeat Petra Kvitova in three sets, 6-4, 3-6, 6-3. At that point, Romania had a 2-1 lead. In the second game, although he played well, Monica Niculescu lost to Karolina Pliskova, 6-2, 4-6, 6-3. The last match thus brought the winning point for the Czech Republic. In the doubles match, Karolina Pliskova and Barbora Strycova won against Andreea Mitu and Raluca Olaru, 6-2, 6-3.
Although they lost to the Czech Republic, the Romanian players were praised by the media for the determination they displayed on the field. Monica Niculescu in particular was commended for her good tennis, despite being ranked lower than her opponents. For her good performance in the Fed Cup match against the Czech Republic, we have designated Monica Niculescu Athlete of the Week on RRI.
Monica Niculescu was born on September 25, 1987 in Slatina. She took up tennis at the age of five and turned pro in 2002. Her best ranking in WTA standings was in February 2012, when she was 28th ranked.
(Translated by V. Palcu)
www.rri.ro
Publicat: 2016-02-09 13:30:00
Vizualizari: 214
Tipareste