The absorption of European funds in Romania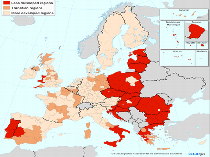 With 74% at the end 2015, Romania has the lowest absorption rate of EU funds in the European Union.
After joining the European Union in 2007, Romania started receiving European funds for development. In theory, the money should be used to bridge the economic gap between Romania and the more developed western countries. 19 billion euros were available to Romania between 2007 and 2014, of which it has only absorbed only 14 billion. Moreover, the money was not used for investment in critical projects such as infrastructure, education and healthcare, as every new government has promised.
The country's sluggish legislation and the frauds in the management of these European projects have delayed the absorption of European funds, the minister for European funds Aura Raducu recently said. During a debate in Parliament, she announced that one of the payments included in the Sectoral Operational Programme Human Resources Development was suspended due to irregularities identified between 2012 and 2014. The Romanian minister said the absorption rate was below 60% when she took office in November 2015 as a member of the new technocratic government headed by Dacian Ciolos. The absorption rate is expected to rise in the future by also including some of the projects funded by the state. Aura Raducu explains:
"This is a unique opportunity to raise the absorption rate to 100%. There are some problems, though, namely that most projects funded by the state unfortunately do not comply with the legal requirements under national law, in particular the regulations regarding public purchases, environmental certificates and building certificates".
In response, the former minister for European funds, the Social Democrat senator Eugen Teodorovici, said the ministry for European funds should concern itself instead with urgent payments and with the launch of new projects. He called on Aura Raducu to consider her resignation if she was unable to ensure the management of European funds. Eugen Teodorovici:
"When you took office, the absorption rate of European funds stood at 59%. You are saying now that the absorption rate has reached 75% and that you will receive more than 700 million euros from the European Commission. Translating this sum into percentages you will see that you will not reach the absorption rate you mentioned."
If we look at the absorption rate of European funds in Romania's neighbouring countries, things are a little better there. At the end of 2015, Hungary had spent 87% and Bulgaria 77% of the money allotted to them. After falling behind in its absorption rates for seven years in a row, Romania is now faced with a bigger challenge: by 2020 it has to come up with viable projects to attract around 35 billion euros.
www.rri.ro
Publicat: 2016-03-02 14:16:00
Vizualizari: 256
Tipareste