Interview with Romanian actor Levente Molnar about supporting role in Oscar-winning film Son of Saul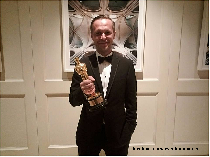 Son of Saul, the winner of this year's Oscar for Best Foreign Language Film has enjoyed wide coverage in Romania given that the film features Romanian and Hungarian ethnic actor Levente Molnar.
Son of Saul, the winner of this year's Oscar for Best Foreign Language Film has enjoyed wide coverage in Romania given that the film features Romanian and Hungarian ethnic actor Levente Molnar. In the film, he plays Abraham Warszawski, who is the best friend of the main character, Saul Auslander. Born on March 10, 1976 in the northern Romanian city of Baia Mare, Levente Molnar has been an actor at the Hungarian State Theatre in Cluj Napoca since 2002. Before its Oscar win, Son of Saul already won prizes in Cannes and a Golden Globe for Best Foreign Language Film. Here is Levente Molnar sharing with us his impressions:
"All the changes occurring in my life are related to friendship and those around me. They are linked to my work. The Cannes Festival and the Golden Globes are past already...now it's the Oscars. I don't see the reason why this should change me. These moments are reasons for transient joy. The award has not come out of the blue, it is the merit of the director. We worked as a team, and working in a team gives you more energy, makes you overcome difficult moments easier. What keeps me down to earth is my work, I like to work. All that is happening to me now, all this beautiful craze, when people are enthusiastic about my work, will pass, and the next day brings you back to normal, to daily activities and among people: life is not a state of perpetual celebration".
Levente Molnar's links to filmmaking date as far back as his student days. He still works with students, often featuring in their short-reel films because he loves meeting new people. Right from the start, he divided his career between stage and film.
"I can exist in both settings. I like theatre, but I also like film. It offers something else. Theatre gives the actor the chance of an immersion, in perfect circumstances, to encourage introspection. One the other hand, he seeks to satisfy the curiosity he has towards his colleagues and their work together, to test his ability to work with his colleagues, to discover the challenges posed by a stage director, to take a mutually agreed responsibility for all those goals. These are typical for theatre. You get to know yourself a little bit better. As for the film, you're getting a bit lonelier out there, even when you do your preparation work. You do not always have the chance to make rehearsals that are so very intense, so thorough, as it happens in theatre. All that requires a lot more confidence, ability to adapt yourself, to be efficient. The former is like a hospital, the latter is like an ambulance. And you are expected to perform a surgical operation at the same standards, in either case... The ambulance is on the move, following zigzag routes..."
As a full-time actor at the Hungarian State Theatre in Cluj, Molnar has enjoyed the privilege of working with a host of stage directors who left an indelible mark on his career. But one such encounter was truly special to him, Molnar explained:
"The man who gives me oxygen in that environment is Silviu Purcarete, who took me closer to theatre, so to say. He is like an oxygen bubble to me, every time we work together. And I had this feeling from the very beginning, when we first worked together in Pantagruel's Sister-in-Law, or later when we did Gianni Schicchi, Victor, and Children Rule the Roost. Every time, I have this special feeling around him, he makes me feel free. I like doing theatre and he challenges me to think differently, at the same time allowing me to be free. I feel I am safe making a mistake."
Still, Molnar's professional life does not limit him to acting in plays and films:
"It looks like I have a penchant for organising things and that takes me to the Transylvania International Film Festival. I am running some small-scale projects as part of the festival. There are two projects I hold most dear. One of them is Manastur Open Air. The very moment I moved into the studio the theatre made available for me, in the district of Manastur-sub-Padure, in Cluj, I saw that green patch behind my block of flats. And it was that green area that made me stay, and the graceful madness of Tudor Giurgiu, Oana Giurgiu and of the people who work there, who took the challenge and joined me in a project of screening films in Manastur, in an open-air area. We started the project many years ago and people keep coming every year. I once had a dream, shared by my theatre colleague Aron Dimeny, and our idea has been accepted. It has become reality and is entitled 10 for Film. I hope we've brought in new experiences - special encounters that have enriched people. We work really hard to offer people such a chance."
The 10 for Film programme seeks to promote new faces in the Romanian film industry. Ten of the most talented stage actors are presented each year, at the Transylvania International Film Festival, to film professionals as well as to the public at large.
Apart from these new projects carried out on the sidelines of the Transylvania International Film Festival, Molnar is responsible for the production stage of the Interferences International Theatre Festival, built at the Hungarian State Theatre in Cluj. He is also involved in film production, currently working with director Adrian Sitaru for Fixer and Radu Mihaileanu for the feature film The History of Love. The broadcasting rights for Milhaileanu's film have been sold at the Berlin Film Festival and many distributors worldwide.
www.rri.ro
Publicat: 2016-03-19 14:47:00
Vizualizari: 1582
Tipareste