May 27, 2016 UPDATE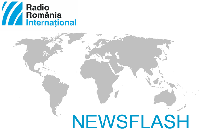 Supreme Defence Council agrees to draw up action plan for healthcare system
The President of Romania, Klaus Iohannis, announced on Friday that the Supreme Defence Council agreed to draw up an action plan for the healthcare system, and the Government will submit quarterly updates on the healthcare sector and citizens' health. The statement comes amid large-scale investigations into the disinfectants used in Romanian hospitals. A government report mentions that disinfectants have been diluted hundreds to thousand times as compared to the figures on the labels. Also, according to the President, the Supreme Defence Council approved the broad lines of Romania's mandate at the NATO summit due in Warsaw on July 8 and 9, subject to updates. During the same session, the Council approved the number of Romanian troops to take part in missions abroad in 2017, namely 1401 troops and civilians from the Army and 783 troops and police forces from the Interior Ministry. According to Iohannis, the Council also endorsed a report on the plans for Units 3 and 4 of the Cernavoda nuclear power plant. The president said this was a high priority investment for Romania, which would help increase the nuclear power output to around 30% of the total national output and contribute substantially to the country's economic growth.
Donations for the purchase of sculptor Constantin Brancusi's work "Wisdom of the Earth" can be made by text message, telethon, public auctions, virtual donation boxes and special events. On Friday the Government broadened the contribution options and the means to cooperate with the legal entities interested in helping the government purchase the sculpture. The "Wisdom of the Earth," currently in a private collection, costs 11 million euros, of which the Government announced it would contribute 5 million euros, with the balance to be raised from collections.
Two Romanian tennis players have qualified for the eight finals of the Roland Garros, the second Grand Slam tournament of the year. Simona Halep, 6th seeded, defeated Japanese player Naomi Osaka, 101st seeded, 4 – 6, 6 – 2, 6 – 3. Irina Begu, 28th seeded, won against German player Annika Beck, 39th seeded, 6- 4, 2 – 6, 6 - 1. Also today, the Romanian – Indian pair Florin Mergea and Rohan Bopanna qualified to the eighth finals of the male doubles, winning 6-4, 6-4 against the all French pair Gregoire Barrere/Quentin Halys. At the same time, the Romanian-Dutch pair Horia Tecau and Jean Julien Rojer were eliminated in the second round of the male doubles by the Uruguay- Spain pair Pablo Cuevas/Marcel Granollers, 5 – 7, 6- 4, 6 – 3.
www.rri.ro
Publicat: 2016-05-27 12:05:00
Vizualizari: 407
Tipareste