Top-level Scientific Project Funded by EU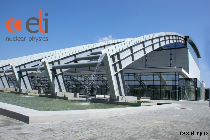 The result of an investment of 310 million euros, the world's greatest laser, currently being built in Magurele near the Romanian capital city Bucharest is one of the most innovative European projects of this kind
The ELI-NP project developed in Magurele, near Bucharest, is the nuclear physics component of the pan-European Extreme Light Infrastructure programme, and during a visit to Romania on Tuesday it was described by the European Commissioner for Research, Science and Innovation Carlos Moedas as one of the most innovative such projects in Europe. Expectations are great with respect to the world's largest laser which is being built in Magurele. Researchers hope the laser will bring substantial benefits in fields such as medicine, pharmaceuticals, astrophysics and nuclear physics.
During his visit to Magurele, the European Commissioner Carlos Moedas said there should be more talk about this project both in Europe and outside it, and that more people should be attracted into experimenting and proving the importance of making the invisible world observable. He mentioned that little was known about the dark matter, which makes up most of the Universe, and that ELI paved the way for better understanding it.
Carlos Moedas also argued that the projects developed as part of ELI, which he described as one of the best examples of open science in the world, may be Nobel winners in the future. According to the EU official, researchers from India, Israel, Japan, from around the world, are interested in the project in Romania, which is a huge opportunity for the country to showcase its performances in the field of science and the high-level professionals that it has.
In his turn, the Education Minister Mircea Dumitru, who visited the centre in Magurele together with the European Commissioner for Research, Science and Innovation, said ELI-NP was an extraordinary achievement:
"What happens here is absolutely fascinating. It will certainly generate scientific breakthroughs that we cannot imagine today. If we look at the level of the research work done here and at what they intend to do in the future, in 10-15 years' time we will likely see accomplishments worthy of a Nobel prize."
Funded by the European Union, the project is to be completed by 2019. So far, components of the laser have passed the individual tests run in Paris and are being assembled. More than 50 researchers have already been employed to work in Magurele, many of them Romanian experts having previously worked abroad.
(Translated by A.M. Popescu)
www.rri.ro
Publicat: 2016-10-12 13:19:00
Vizualizari: 138
Tipareste