Romanian rugby, an unprecedented success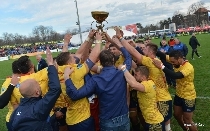 Romania's national rugby squad has won this year's edition of the Rugby Europe Championship, the second-tier European inter-nations competitions
It may not have the status and reputation of the team that caused a great furor in the 1980s, when it used to play memorable games against the then great European teams, yet the national rugby team has recently registered a most notable success.
This past Sunday, following the narrow, 8-7 win against Georgia in Bucharest, Romania emerged as winner of this year's Rugby Europe Championship, the second-tier European inter-nations competitions. However, the competition stands way below the Six Nations Championship.
Following the 38-41 defeat they sustained against Germany in the debut fixture, which acted as a wake-up call for the Romanians to regain their poise and resolve for their remaining fixtures in the aforementioned event, the national squad beat Spain, 13-3, then they thrashed Russia, 31-10, and went on to crush Belgium, 33-17.
According to the final rankings, the Romanian national rugby team ended the competition on a par with Georgia, as each team had 19 points on their record sheet. However, the Oaks, as they are also known, won the tournament, thanks to their direct confrontation win.
Romania also took an important step forward ahead of their participation in the 2019 edition of the World Cup, which is held every four years and which the Oaks have never missed out on, so far.
In another move, thanks to the success in the match against Georgia, an all-time as well as a regional rival, the Romanians have also won the ''Antim Ivireanu'' Cup, a trophy that goes to the winning side in direct confrontations, on a yearly basis. No less than seven years have the Oaks been waiting to grab a win against Georgia, a team pundits describe as having made a tremendous progress in the last decade and which is highly likely to gain a place among the Six Nations Championship hopefuls.
Although is suffers from chronic under-financing, just like many other sports disciplines, Romanian rugby is alive and kicking; our players were able to put on remarkable shows thus compelling recognition at European level. Furthermore, the 4,000 fans attending the match against Georgia stand proof of the fact that rugby can still stir an interest in its fans and not only. And all that, in a country where football remains the unchallenged king of sports and where stands are empty even for first league rugby games. Even under such circumstances, and deprived of a level of financing capable of providing a safe future, Romanian rugby continues to churn out players who are held in high esteem in strong European championships across Europe.
For instance, as early as the 1990s, the French domestic championship, described as a first-rate one, has signed up Romanian rugby players on a regular basis. To date, there are a few Oaks playing in France, while other Romanian rugby players have been included in the line-ups of Italian or English sides.
www.rri.ro
Publicat: 2017-03-20 13:59:00
Vizualizari: 596
Tipareste