Traditional Bread in Rising Demand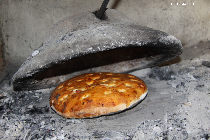 Once foreign companies making bread products gained a foothold on the Romanian market, bakeries and bread factories started using new technologies on a wide scale.
Once foreign companies making bread products gained a foothold on the Romanian market, bakeries and bread factories started using new technologies on a wide scale. Machinery replaced many of the workers making bread by hand, with recipes starting to include other ingredients than the traditional ones. At this point, supermarkets have their own bakeries offering customers freshly baked, previously frozen products. Around 870,000 tons of frozen bread is imported annually to Romania, covering about a third of consumption, according to representatives of Rompan.There are, however, local producers of quality bread made based on old recipes, which is more and more popular.
Călin Matieş opened a bakery in Sântimbru, Alba County, baking bread in traditional clay ovens, after a centuries old method. He uses natural ingredients, with no additives and preservatives, but makes bread with a long shelf life. Even though the price of the bread is double that of bread sold in regular stores, it is more and more popular with locals and buyers in other European countries.
Maties urges everyone to eat the Romanian style: "I started this business in 1998 with 5,000 US dollars, which I borrowed. We have brick ovens. The bricks themselves were made in traditional ovens. We make sourdough bread, like the old timers made. We leave the starter to sour overnight. At the end, the bread has an incredible taste, and it is highly appreciated, here and abroad. We are even thinking about franchising the business. I can't tell you more about that, except that we've had a lot of requests."
Calin Maties takes part in most national and international food fairs. Two years ago, he won the 2015 Traditional Producer of the Year award at the Indagra Agriculture Fair in Bucharest. The Ministry of Agriculture granted it for one of his traditional products, but also for showing how Romania can still manufacture traditional food products: "One oven makes batches of 50 loaves, and we have two, so we produce 100 loaves in a batch. On an average we make one ton of bread per day. We use Romanian flour from a provider we've been working with for 15 years, and make bread that has no additives, enzymes and gluten additives. I believe we have the best bread in the area. 6 years ago I went to Bavaria, in Germany, to the Baking Museum there, and took some Romanian bread with me. We met an 80 year-old man there, and we gave him to taste our bread, which we'd been transporting for four days. When he tasted it, his eyes welled with tears; he said he hadn't tasted anything like that since he was a child. He told us to enjoy such wonderful products, and the fact that we have them at hand. Our bakery in Santimbru makes nine kinds of licensed products. In addition, we make three more, which are not licensed; the paperwork hasn't yet come through. Last year we introduced our City Bread, the official bread of the city of Alba Iulia. We are the only bakers making this bread, in the shape of a seven point star."
In addition to regular traditional methods, the southwestern region of Oltenia preserves an ancient baking method using a traditional vessel known as a 'ţest', a thick, heavy baked clay dome that covers the dough as it bakes. Old timers still have them in their households, but they are fewer and further between nowadays. George Dumitru is a young man who is thoroughly unimpressed with store bought bread. Raised at his grandparents' knee, he appreciates homemade food, and he tried to revitalize the ancient custom of baking using a 'ţest'.
He told us how it all began: "It all started by chance. One of my grandmother's vessels broke, and we had to make another one for her. We ended up making several, and we tried to sell the additional ones. To our surprise, they sold very quickly, the demand was great. People were calling us asking us for a 'ţest', and we thought we could put together a small business making them. We have customers from all over the country, but also from abroad. They are mostly Romanians who want to bake their own bread. The bread it makes is unique by its taste and flavor. The unique flavor is imparted by the material that the 'ţest' is made of. The advantage is that the primary material for making it is readily available, right at the village edge. Last year we made about 200 of them, and we sold them by early March. Now we are also sold out. We want to expand in the future. We are trying to make as many such ovens as we can, and starting in May or June we want to open a bakery close to Bucharest, in the Baneasa area. We want to bring this bread closer for Bucharesters, give them the opportunity to have a taste of this bread, which is much healthier than what they find in stores."
Bread consumption in Romania is over 95 kg per capita per year, compared to the European average of 60 kg. However, healthier eating is more and more popular in Romania, with people seeking more and more healthier alternatives with higher nutritional value.
www.rri.ro
Publicat: 2017-03-28 13:32:00
Vizualizari: 875
Tipareste