Money for the Romanian Army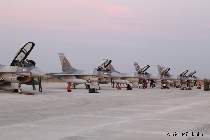 The army equipment modernization plan is going to be finalized within one month, said the Romanian Defense Minister Gabriel Leş.
The Romanian Army will get half of the 2% of the GDP allocated for the first time this year to defense, which it will use to modernize its equipment. The equipment modernization plan will be finalized within a month, the Romanian Defense Minister Gabriel Leş stated on Radio Romania. According to the Defense Minister, the army will get attack and transport helicopters as well as new armored vehicles, given that the ones the army are using right now are 30 years old.
Here is Minister Gabriel Leş: "Our intention is to equip the army with attack helicopters, so that when the helicopters that we have now have exhausted their resources, we will be able to use these new helicopters. We are now considering attack helicopters in particular, but also transport helicopters, which will be probably covered by the next stage of the army equipment modernization program."
The Romanian Defense Ministry would like to have the national defense industry involved in all the programs aimed at equipping the Romanian Army.
In another move, Minister Leş has stated on Radio Romania that the NATO multi-national brigade in Craiova, southern Romania, will be rendered operational this month, and the Southeast Division, whose headquarters are based in Bucharest, will become operational next year. In 2017, several large-scale military exercises will be held on Romanian soil. The most important of them will entail the participation of 20,000 soldiers from NATO member countries, Gabriel Leş has also said. Some of the drills will be bilateral, headed by the US, and the others multi-national. They are all aimed at enhancing the interoperability of the allied forces and increasing the quality of military operations under a single command, said minister Leş, who also stressed the fact that all the exercises to be carried out in Romania are purely defensive.
Romania, a NATO member since 2004, marked NATO Day on the first Sunday in April. Bucharest authorities took the opportunity to highlight the fact that Romania will keep on consolidating its strategic profile within the Alliance and will fully observe its commitments. "NATO's collective defense means today, more than ever before, being aware of the fact that the security of every state can be more efficiently protected if the members act together, and not separately" Romania's President Klaus Iohannis said on the occasion.
www.rri.ro
Publicat: 2017-04-07 13:34:00
Vizualizari: 239
Tipareste