The I.O.R Park in Bucharest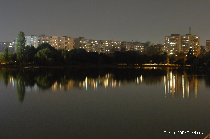 One of Bucharest's most popular parks right now
The inhabitants of Bucharest are seeking more and more green spaces, in order to get away from pollution, be it car exhaust or sound pollution, in addition to the stress of everyday urban life. Fortunately, Bucharest still has a lot of green areas, even centrally. One of them is in the east of the city and is known as the I.O.R park. This park is split into two areas by a bridge, one of them being called Cuza, and the other Titan. Today, the park is nothing like the industrial area it used to be 50 years ago. It stretches over 80 hectares, has a lake in the middle, is scattered with playground areas for children and crisscrossed by many alleys. The name of the lake, the acronym I.O.R, comes from a communist era industrial plant. In 1964, the management of what is now Sector 3 decided to set up the area as a park, converting the industrial pits into a leisure area. Gheorghe Petre, the head of the arts and culture department with the then management, recalls:
"The I.O.R park was created in 1965, when Bucharest City Hall issued an order by which 83 hectares of the area around the lake, which were clay pits back then, were to be transferred under the custody of Sector 3. Work started in 1965, and the first stage was completed in 1970. During that time, alleys were drawn up and paved, a small island was elevated in the middle of the lake, and the greenery was planted, trees, bushes, and flowerbeds. The park's surface at that time was 60 hectares, but today it covers 83 hectares out of which 19 are covered by the Titan Lake."
Before starting the works, a delegation of the Bucharest city hall went to France to study the parks in Paris, which served as inspiration for the future Park's blueprints. Besides its numerous alleys and lanes, the park has been added a series of entertainment facilities for the lake. Here is Gheorghe Petre again.
"Boats have been brought from Giurgiu as donations by Romania's naval company Navrom. Sightseeing ships used to cross the lake at the weekend and on weekdays before 1990. We have cooperated with the Institute of Forestry Research in Stefanesti since 1965 and they have provided us with all the trees we needed: the willows that we planted around the lake, the fir-trees, the Canadian poplar trees and other species. Until 1980 the park used to be a genuine green oasis but got entirely neglected between 1980 and 1989 when there was also a big shortage of funds. However, after 1990, and particularly of late, the park started to grow again into an area able to host culture and entertainment events for the inhabitants of Bucharest."
After modernisation works that began in 2010, the two parks once united under the I.O.R acronym are today made up of five islets, four of which are open to visitors and another one home to the park's wildlife consisting of ducks, swans and tortoises. The other islets have been designed for special categories of people. So there is the Island of Pensioners, the Island of Art, of the Fishermen and the Dogs Island, where animal lovers can take their pets for a walk. (Translated by E. Enache and D. Bilt)
www.rri.ro
Publicat: 2017-05-20 12:34:00
Vizualizari: 879
Tipareste