Consumer Summit in Bratislava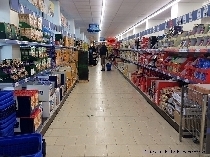 Concerned with the double quality standards for foodstuffs traded by West-European companies to Central and Eastern Europe, Slovakia and the Czech Republic this past weekend called a Consumer Summit in Bratislava
Countries from Central and Eastern Europe are accusing countries from Western Europe of supplying products of inferior quality, although they are being sold by the same brand in the West. This isn't news, as last year Bulgaria, the Czech Republic, Croatia, Estonia and Slovakia notified the European Commission with respect to the double quality standards of products sold in the East and the West.
This is why Slovakia and the Czech Republic last weekend organized a Consumer Summit in Bratislava, in an attempt to combat the trading of inferior-quality foodstuffs in countries that only recently joined the European Union. "The deliberate discrimination against food consumers in Central and Eastern Europe is unacceptable", Polish Prime Minister Beata Szydlo said on the sidelines of the event. In turn, Slovakian Prime Minister Robert Fico said the European Union has no place for second-rate consumers.
Hungary's Prime Minister Viktor Orban said Europe's economy is based on trust between member states, while the double standards of food quality is a particularly sensitive matter for Central Europe due to its communist past. Large multinationals have been deceiving consumers in Central Europe, Orban went on to say. Attending the Bratislava Summit, EU Commissioner for Justice, Consumers and Gender Equality Vera Jourova proposed a methodology for comparing foodstuffs in the community bloc, a measure appreciated by the leaders of the Visegrad Group, which includes the Czech Republic, Hungary, Poland and Slovakia, who nevertheless say it is a first in what they call a long line of actions that need to be taken.
A comparative analysis carried out this summer on foodstuffs perceived as having double quality standards highlighted quality differences in 9 out of the total of 29 tested samples. The Summit in Bratislava brought together representatives of the Romanian Agriculture Ministry and the National Consumer Protection Agency.
According to a Ministry release, Romania wants a clear legislation in the field at European Union level, specific control methodologies across Member States and a good cooperation with the European Commission, allowing Member States to best respond to the issue of double standards in food quality. Participants in the Summit agreed on a mechanism of cooperation aimed at identifying products that might have different quality parameters, depending on the market. Romanian experts will thus work with MEPs to develop a new legislation for this field.
www.rri.ro
Publicat: 2017-10-16 15:03:00
Vizualizari: 425
Tipareste