Romania's last king Mihai I dies at the age of 96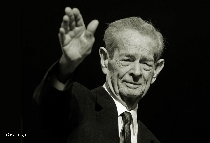 Romania's last king, Mihai I, passed away in Switzerland, at the end of a long and painful illness.
Romania's last king, Mihai I, passed away in Switzerland, at the end of a long and painful illness. The 96-year-old ailing king, who had been diagnosed with two severe types of blood and cell cancer, chose to withdraw from public life in 2016, when Crown Princess Margareta became Custodian of the Crown. Because of his frail health condition, king Mihai I couldn't attend last year, the funeral service of his wife, Queen Anne of Bourbon-Parma, who was entombed in Curtea de Arges, the final resting place of the Romanian Royal House.
King Mihai and Queen Anne married in 1948 and made up the longest living royal couple in Romania's history. Apart from Princess Margareta, the couple had four other daughters: Elena, Irina, Sofia and Maria.
A cousin of Queen Elisabeth II of Great Britain, Mihai I was the last of the four sovereigns of the Hohenzollern-Sigmaringen dynasty of German origin who ascended the throne in Bucharest in 1866 and built modern Romania. Back then, on May 10, Carol I was proclaimed ruler, and after the country won its independence, he was crowned, becoming the first king of Romania, in 1881.
Born in Sinaia, in 1921, Mihai was the son of Carol II of Romania and his wife, Elena of Greece. Mihai was proclaimed king when he was only 6 years old, after the death of his grandfather, King Ferdinand, and because his father had renounced his Crown Prince status. When Mihai was a child, a Regency Council made up of Prince Nicolae, Patriarch Miron Cristea and the President of the High Court of Cassation, Gheorghe Buzdugan, was instated.
In 1930, Carol II returned to Romania and ascended the throne, and Mihai I received the title of Grand Voivode of Alba Iulia. Following his father's abdication, on September 6, 1940, Mihai received the Crown. On August 23, 1944, during WWII, he ordered the arrest of the de facto leader of the country, Marshal Ion Antonescu, Romania's withdrawal from the alliance with Hitler's Germany and subsequently declared an alliance with the traditional allies, the US and Great Britain. According to historians, this act of bravery shortened the war by 6 months and spared the lives of hundreds of thousands of people.
Three years later, when the country was practically under Soviet military occupation and was led by a Communist government, the king was forced to abdicate and into exile in the West, first in Great Britain and then in Switzerland. Mihai was also stripped of his Romanian citizenship and during the communist regime he was banned from returning to Romania.
He endorsed the actions carried out by the Romanian National Committee, which was presented like a government in exile, although Western democracies have never recognised this status.
The sovereign was allowed to return to Romania only after the anti-communist Revolution of 1989, he regained his Romanian citizenship and some of his royal properties. King Mihai, lobbied, as a special ambassador, in the Western chancelleries, for Romania's accession to NATO, in 2004, and to the EU, in 2007.
www.rri.ro
Publicat: 2017-12-05 19:32:00
Vizualizari: 1158
Tipareste