Tourism in Hunedoara County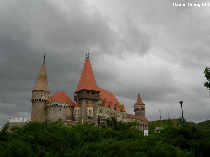 Hunedoara is an area rich in historic sites, and also in natural resources.
Hunedoara County offers a large variety of tourist attractions. It is an area rich in historic sites, and also in natural resources. Here we find Dacian fortresses, as well as important medieval castles, museums and places of worship, not to mention some of the most important nature reserves. Today we will be discovering the most important tourist objectives in Hunedoara with Cristian Roman, archeologist and director of Corvin Castle, believed to be one of the most beautiful castles in the world, deemed as one of the top destinations in Europe. The castle is an architectural jewel, taking you to a world of legend.
Here is Cristian Roman: "Corvin Castle is emblematic for the Transylvanian Middle Ages, and at the same time it is one of the best preserved Gothic monuments in Romania. We are talking about the residence of the Corvins, a family that was very important in the 15th century in Central and Eastern Europe, so this objective makes a connection between the West and Southeast Europe. We also have the Museum of Archeology and Ethnography, which is close to the castle, the Hunedoara Guild Museum, dedicated to the craftsmen associations that formed part of Hunedoara's economic base, as well as a private museum dedicated to the communist period. We also have objectives promoting ecclesiastic tourism: St. Nicholas Church, a church from the 15th century which was expanded in the 18th century, then the Popa Sapca Church, a 19th century edifice with paintings signed by Sava Hentia. We also have a Reformation church, built by the Bethlen family, one of the most important Hungarian families of the 17th century in Transylvania, and also a Catholic church, an early 20th century edifice, built on a piece of land taken over from the state, lying next to a steelworks."
In the southeast of Hunedoara County, stretching over 38,000 ha, we have the Retezat National Park, which can be reached either through Hateg Depression, coming from Deva, or through Jiu Valley, coming from Targu Jiu. It is a wild place with thousands of species of plants and animals, with dozens of glacial lakes, also known as the Land of Blue Eyes. It is the biggest nature reserve in Romania, a UNESCO biosphere reserve. Hunedoara is surrounded by major tourist objectives worthy of your attention.
Here is Cristian Roman once again: "Close by we have adventure and cultural tourism objectives. I am referring to the resorts in Retezat Mountains and Sureanu Mountains, where you can explore Karst caves, as this is one of the most important Karst areas in Romania. You can also visit one of the most important archeological sites in Romania, Sarmizegetusa Regia, the former capital of Dacia, a huge military, religious and political center. Here you can find a whole row of fortifications built to defend Sarmizegetusa. It is a very interesting area, only partially explored by the archeologists based in Cluj. Then you can visit Hateg Country, where we have a site declared a UNESCO monument in 2016. I am talking about the Hateg Dinosaur Park. You can also visit there the most important churches in Hunedoara, dating back to the 13th to 15th centuries."
The Dinosaur Park has a surface of 1.4 ha, with 46 dinosaurs. They are huge, between 8 and 24 meters long, and between 2 and 20 meters tall. Nests with dinosaur eggs have been discovered in the area as well. Right now, the Romanian dinosaur park, opened two years ago, is still in the top of preferences for tourists; last year it made a profit of over 720,000 Euro, for an income of around 2.2 million Euro. So far, 700,000 people have visited it.
Hunedoara also has resorts for winter sports lovers, for both beginners and the more advanced, Cristian Roman told us: "Hunedoara has two major winter sports areas of concentration. We have the resort called Straja, where major investments have been made lately in terms of tourism infrastructure, and the resort of Rausor. Access to these resorts is very easy, and they satisfy every need. Tourism services have developed a lot in Hunedoara, and have reached high levels of quality. Which is why last year, Hunedoara County had the highest growth in tourism in Romania. That is normal, because, as I said, the county has mountains, hot springs, it has the possibility of offering cultural tourism lovers lots of monuments to visit. Soon a highway will be inaugurated linking the counties of Timis and Hunedoara, which will allow tourists to drive only three and a half hours from the border into the county. There are hundreds of places for lodging in the county, with an occupancy rate of 80%, which means that Romanians have started investing in vacations around the country."
The resort of Straja has 12 ski slopes, with varied degrees of difficulty. Recently, a ski lift has been inaugurated, helping skiers enjoy the entirety of ski slopes, a total of 25 km.
www.rri.ro
Publicat: 2017-12-07 14:04:00
Vizualizari: 211
Tipareste