Painter Corneliu Baba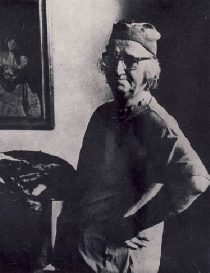 Born in Craiova on November 18, 1906 and having lived a long period in Bucharest, where he passed away in December 1997, painter Corneliu Baba left a very original mark on the Romanian arts for more than half a century. The shapes, colours and even themes in his works are reminiscent of the classical elements of painting. But although Baba would not abandon these conventions, which were already seen as obsolete by the artistic avant-garde of the inter-war years, he created a very personal style within these classical boundaries.
Corneliu Baba made his debut in 1934, with an exhibition organised in Baile Herculane and financed by his father, Gheorghe Baba, himself a church mural painter. But his first university years had not been devoted to the field of painting. Until 1930, he had studied literature and philosophy in Bucharest. It was only after the exhibition in Baile Herculane that he moved to Iasi, to attend the Fine Arts Academy under the coordination of painter Nicolae Tonitza. He stayed in Iasi for 16 years, and came to teach at the Fine Arts Academy. After 1946, right after he had been granted tenure at the Academy, the communist authorities censured him as too formalist, a painter who failed to appreciate the new realities in the country and who continued to find inspiration in the works of Nicolae Grigorescu, Tonitza, El Greco, Goya and Rembrandt. Imprisoned and then transferred to Bucharest, Corneliu Baba was paradoxically safe from further persecution thanks to Soviet artists. The latter appreciated the humanism of Baba's aesthetic beliefs and found him to be very close in this respect to Socialist realism.
Here is art critic Pavel Susara, the author of a monograph on Baba's art, with an explanation:
"Baba had embraced a humanist perspective, an approach centered on man, to which he had been driven by his personality and his experience. Man is at the core of Baba's worldview. And coincidentally, the Russian and Soviet painters of the time preferred this humanist paradigm, which was mid-way between the propaganda of Socialist realism and the vocation of high art. So Baba and the Soviet artists converged on this topic of the heroism of human nature. He had nothing to do with Socialist realism. But Socialist realism was seeking its precursors, apostles or prophets. In the category of humanist painters, the supporters of Socialist realism found fertile ground for their own interests. Corneliu Baba was therefore appropriated by Socialist realism, although in retrospect his relationship with this current was limited to the names of his works, such as 'Steelworker,' 'Lunch on the crop fields,' which are related to the Socialist outlook, focusing on the proletariat and peasantry. So in fact Baba made no change in his individual artistic universe. He would have stood by his beliefs even if the communist propaganda had not appeared. And even when socialist realism was no longer the prevailing doctrine in Romanian fine art, Baba carried on with his individual outlook which is perfectly consistent with what he had been done before."
Once rehabilitated thanks to the appreciation of the Soviet artists, but more importantly thanks to the public confidence he had gained slowly but steadily, Corneliu Baba carried on his professional career. He became a professor at the Bucharest Institute of Fine Arts, he won countless awards and had exhibitions abroad. He was a member of the Romanian Academy, an honorary member of the Russian Arts Academy and a corresponding member of the Berlin Academy. Throughout this time, Corneliu Baba never stopped being "a tragic humanist, one who perceives the outstanding greatness of man, and as time goes by, also the vulnerability, the frailty of human beings," as art critic Pavel Susara put it.
All these are particularly evident in Coneliu Baba's later works, the series of harlequin kings and the self-portraits. As for Corneliu Baba's artistic legacy, Pavel Susara concludes:
"Baba was never truly liked by the communist regime. They found a way to live with one another, but it was a cohabitation marred by tensions and suspicions. The communists could not use Baba as a readily available propaganda instrument, as other painters were at that time. If Adrian Ghenie is so successful today in Romania and abroad, this is in part because to a significant extent he continues in a different paradigm Corneliu Baba's nightmarish project and his dissolutive vision. Ghenie was the student of painter Corneliu Brudascu in Cluj, and Brudascu was the student of Corneliu Baba. So in a way, Ghenie is the successor of Corneliu Baba, even in terms of this view on humanity in brackets pioneered by Corneliu Baba."
www.rri.ro
Publicat: 2017-12-09 13:19:00
Vizualizari: 1119
Tipareste