Justice, protests and politics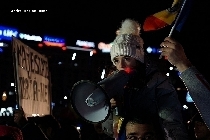 Protests continue in Bucharest against Social-Democrats' justice laws.
The main ruling coalition party in Romania, the Social-Democratic Party, last Saturday staged a rally in Craiova, southern Romania, as a last tribute to the former King of Romania. The leader of the party branch, Claudiu Manda, said participants wanted to express their gratitude for everything His Majesty had done for the city. In 1947 King Mihai issued decrees for the foundation of the Philharmonic and University of Craiova. In 2013, the King was made honorary citizen of Craiova, on which occasion a bust of the former monarch, one of the few remaining statues in the country dedicated to His Majesty, was unveiled.
Political pundits praise the Social-Democrats endeavor, ironically noting however that the meeting in Craiova, which gather less than a few hundred people, had been arranged a long time ago. Originally the event was designed as a massive protest against the so-called parallel state, made up of courts of law, prosecutors and special services, which are allegedly harassing democratically elected officials. Conversely, this Sunday saw a new round of anti-government protests in central Bucharest and other large cities across the country. Some 10,000 protesters gathered in Bucharest and another 6,000 elsewhere in Romania to pay a last homage to the King but also to protest against the Government.
For the first time the leaders of the National Liberal Party and Save Romania Union in opposition, Ludovic Orban and Dan Barna respectively, as well as the former Prime Minister Dacian Ciolos, joined the crowd of protesters. Their message was one of unity at a time when the ruling coalition is purportedly mounting an unprecedented attack, not just on the Romanian judiciary, but the very rule of law. On this occasion, Dacian CIolos announced the upcoming launch of a new political party that will emerge from the Romania 100 Platform, an NGO he founded earlier this year upon ending his term as Prime Minister of Romania.
Political pundits agree the new party is surfacing much in the same manner as the Save Romania Union, a party which is now the third-largest parliamentary faction, and which originally functioned as an NGO in Bucharest. Commentators believe Ciolos's party will share the same voters as the Save Romania Union, who are adamant about observing the rule of law, very demanding of the political class overall and always willing to take to the streets to criticize it. In the wake of Sunday's protests, Senate Speaker Calin Popescu-Tariceanu called on protesters to read the justice bills, apart from consulting social media. The leader of the Alliance of Liberals and Democrats from Romania, a ruling-coalition party, claims the justice laws do not try to subordinate to judiciary to the power, nor to stop the fight against corruption, but they seek to consolidate the rule of law and the independence of magistrates, and to curb abuse and crime. (Translated by V. Palcu)
www.rri.ro
Publicat: 2017-12-11 13:09:00
Vizualizari: 346
Tipareste