RRI Sports Club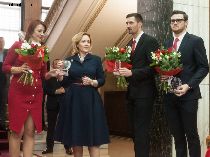 The awards of the Dinamo Bucharest Sports Club
Dinamo Bucharest won the largest number of medals among Romanian sports clubs in 2017. Its athletes won medals in Europe's major rowing, boxing, judo, fencing, canoeing, swimming and tennis competitions.
Madalina Beres, the winner of the world title in the women's eight and double gold medallist with the women's eight and coxless pairs at the European Championships, has been designated the club's athlete of the year in 2017. After Beres, the best Dinamo athletes were world champions Mihaela Petrila, Adelina Bogus, Viviana Bejinariu and Denisa Tilvescu, who were part of Romania's eight, as well as Ionela Livia Lehaci, the world champion in the lightweight double scull.
The list of Dinamo's best athletes also includes tennis player Horia tecau, the winner of the doubles title at the US Open, as well as Amalia Tataran and Bianca Pascu, bronze medallists in the sabre event at the European Fencing Championships. Gymnast Larisa Iordache walked with crutches to attend the award ceremony as she is recovering after two surgical operations on the Achilles tendon.
Mircea Roman, who coached the national women's canoe team, has been declared coach of the year, while the club's male handball side, who won the national championship title and Romania's Cup trophy, has been designated team of the year. During the award ceremony, Romanian Interior Minister Carmen Dan announced, much to the joy of Dinamo fans, that the club would have an indoor arena of 25 thousand seats by 2020.
Also worth noting is that Dinamo, a sports club subordinated to the Romanian Interior Ministry, will next year celebrate its 70th anniversary.
www.rri.ro
Publicat: 2017-12-20 14:09:00
Vizualizari: 176
Tipareste