Personality of the Year 2017 on RRI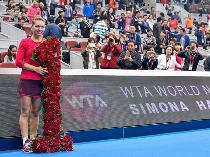 Radio Romania International continued its traditional end-of-the-year survey among its listeners on the short wave, the Internet and social media.
We challenged you to nominate a person from any walk of life, which, in your opinion, left their mark on the world in a positive way in 2017.
A number of politicians rank among the nominees, including US President Donald Trump, Russian President Vladimir Putin, French President Emmanuel Macron, Chinese President Xi Jingping, Romanian President Klaus Iohannis, German Chancellor Angela Merkel, Canadian Prime Minister Justin Trudeau, Japan's Prime Minister Shinzo Abe, Sheikh Hasina, the Prime Minister of Bangladesh and Chris Christie, the Governor of New Jersey. Pope Francis has also been one of your nominations. King Michael I of Romania, who passed away in 2017, at the age of 96, Queen Elisabeth II of Great Britain or the Crown Prince of Saudi Arabia, Mohammad bin Salman, have also been nominated. The North-Korean leader Kim Jong-Un has been nominated for his negative influence on the world in 2017.
We also received a number of collective proposals: women in conflict areas, for their resolve in coping with the numerous challenges and hardship, as well as all the women in the world fighting for the elimination of violence against women. As usual, we got a number of nominations from the world of sports, namely the football teams of Egypt, Morocco, Tunisia and Saudi Arabia, who've managed to qualify to the World Cup in Russia.
Other nominations included the rock band "Agatha Christie", Slovakian road bicycle racer Peter Sagan, reputed physicist Stephen Hawking, singer songwriter Karen Chisholm or the robot Sophia.
However, based on the highest number of nominations we got from RRI listeners, the Personality of the Year on Radio Romania International is Romanian tennis player Simona Halep, who in 2017 became the world's number one woman tennis player!
Dumitru Pelican of Romania explains his choice: "It's a dream come true! Simona Halep is number one in the world! Many thought this would be an unachievable goal. But Simona believed it could be done, she put in a tremendous amount of work, upped for service, continued to hope and thus became the first Romanian athlete to climb onto the top position in WTA standings! In the men's competition, we had Ilie Nastase! It is a historic success which the millions of Romanians who never stopped believing in Simona had been waiting for!"
In turn, Santa al Djika of Macedonia (FYROM) writes: "She makes us proud when she wins and sad when she loses".
What best describes Simona Halep as a model for the rest of us, our listeners ask, also providing the answer: hard work, constant progress, patience, ambition, modesty, unaffectedness, spontaneity, a sense of humor, love and respect.
www.rri.ro
Publicat: 2018-01-01 03:36:00
Vizualizari: 2725
Tipareste