New Year's recipes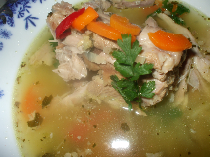 Some of the dishes Romanians commonly make around the holidays.
Today's show will once again be about the kind of dishes that Romanians enjoy more often around the holidays. This particular recipe is for a type of soup that is typically served on the first day of the year for lunch, as a fortifier after a night of partying. It is giblet soup, using bits and pieces of chicken such as heads, necks, feet and backs.
Giblet soup is a rich brew that is best shared, hence the large quantities in the recipe. It takes a large pot, worth about 10 liters. Take about 2 kg of giblets, and let boil in 4 liters of water with a pinch of salt. Skim the stock, then add 2 or 3 onions, a few carrots, one parsnip and celeriac, all finely chopped. Bring to a boil, then add a cup of rice. The secret ingredient is sauerkraut juice, about 2 liters. Separately, beat two eggs with sour cream and a bit of the liquid, adding that to the soup. Add finely chopped lovage to garnish and add that special flavor that characterizes Romanian cooking. Enjoy!
Another recipe typical of the holidays, and similar in preparation, is aspic. Aspic is made of chicken, goose, pork, veal and even fish stock, although fish has too little natural gelatin. For instance, to make chicken aspic you need 1 kg of wings and thighs as well as feet and heads, so that the aspic should jellify quicker. You also need 2 onions, 2 carrots, a head of garlic and several sprigs of green parsley.
Boil the meat with the carrots and onions. Skim and leave to boil until the meat shreds off the bones. At the end add salt to taste. Take out the meat and bones and shred the meat in medium sized strips. Strain the liquid and pour it in a container and then add pressed garlic. In a bigger container or in several smaller bowls place, for decoration purposes, round slices of carrot, green parsley sprigs, thin slices of pickled red pepper and also the strips of meat. Then pour the chicken stock carefully and leave to cool, then place the container or bowls in the fridge for the jelly to congeal. The aspic is served the next day. Good luck and enjoy!
www.rri.ro
Publicat: 2017-12-31 13:54:00
Vizualizari: 97
Tipareste