How Romanians spent the New Year's Eve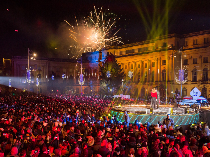 A series of outdoor music performances, concerts and fireworks were staged in Bucharest and other Romanian cities on the New Year's Eve
Traffic jams have these days been a common sight on motorways leading to Bucharest as many Romanians are coming back home after spending their mini holiday in the mountain resorts of the Carpathians as well as in various guesthouses in Bukovina, northeastern Romania or in the picturesque region of Maramures in the country's north. Road traffic was also very intense during the winter holidays and the first days of the New Year also at Romania's border checkpoints. Between December 18th and January 1st, over 2 million people transited the borders, a 15% increase as compared to a normal period of the year. 970 thousand people have left the country while over 1.1 million have entered it.
The most transited was the western border area as well as the border checkpoints with the Republic of Moldova. The police have recommended those leaving the country to use all the 11 checkpoints of the Romanian-Hungarian border. Measures to ease road traffic will be in place in the next days as new traffic jams are expected at Romania's border with the Republic of Moldova. Preparations have also been resumed in the Romanian guesthouses and hotels whose owners are now expecting a new wave of tourists, who this time are the Oriental Orthodox believers who celebrate Christmas on January 7th and the New Year on the night between January 13th and 14th.
For all those who are already in 2018 and who decided to spend the New Year's Eve at home, live outdoor musical concerts and fireworks were staged in Bucharest as well as in other major cities across Romania. In downtown Bucharest, tens of thousands hailed the end of 2017 and the entry into 2018 in front of a stage of 500 hundred square meters on which a Broadway-inspired show was taking place. The largest outdoor performance in Romania involved the participation of some of the most popular singers and bands right now such as Holograf, Directia 5, Voltaj, Andra, Loredana, Delia, Mihail or Carla's Dreams. 100 Romanian hits of pop, rock, dance and hip hop music delighted the audience.
Those who decided to spend the New Year's Eve on the streets of Cluj, western Romania, were delighted by an impressive show of lasers, light and fireworks. And in order to properly celebrate the entry in 2018, the municipality had provided all the participants with no less than 700 bottles of champagne. In Constanta, on the Black Sea coast, the city's historical centre saw a party with more than 10 thousand participants while in Timisoara, western Romania, the outdoor performances had a special guest in the person of pop-Latin singer Lou Bega. (Translated by D. Bilt)
www.rri.ro
Publicat: 2018-01-03 12:47:00
Vizualizari: 104
Tipareste