WORLD RADIO DAY 2018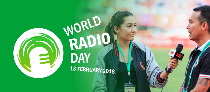 February the 13th was declared by UNESCO World Radio Day, to draw attention on the outstanding importance of this means of communication, without which many people would not have access to information
February 13 is a day to celebrate radio, to improve international cooperation between broadcasters and to encourage major networks and community radios to promote access to information, freedom of expression and gender equality over the airwaves. The theme of World Radio Day this year is "Radio and Sports".
As we look forward to a year of momentous sporting events, events that have the ability to unite the hearts and minds of people everywhere, UNESCO calls on all radio stations around the world to showcase the beauty of sports in all of its diversity.
Radio Romania invites you to bring your contribution to our World Radio Day show by telling us what sports topics you would prefer hearing about in our programmes.
World Radio Day, celebrated on 13 February, marks the anniversary of the first broadcast by UN Radio in 1946, when it transmitted its first call sign: "This is the United Nations calling the peoples of the world."
World Radio Day seeks to raise awareness about the importance of radio, facilitate access to information through radio, and enhance networking among broadcasters.
To celebrate World Radio Day, we invite you, dear listeners and Internet users, to send us short messages, by email, at engl@rri.ro
www.rri.ro
Publicat: 2018-01-18 16:06:00
Vizualizari: 1605
Tipareste