Green Buildings in Romania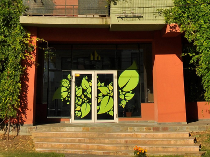 Romania is gradually adopting the idea of green buildings, sustainable buildings constructed on the basis of ecological standards
Romania is gradually adopting the idea of green buildings, sustainable buildings constructed on the basis of ecological standards, well insulated and low polluting, with a minimal environmental impact. It is a concept already applied around the world, in cities that have started to blend green buildings with modern or legacy architecture. This trend is encouraged by organizations that issue certificates attesting that buildings are environmentally friendly. According to Build Green Romania, one of the main organizations of this type, Romania is in a good place right now as far as this area is concerned. Bucharest and Cluj are the cities with the top graded buildings in terms of environmental friendliness. We spoke to Elena Rastei, an environmental activist and sustainability expert, who told us that the market evolves differently according to the destination of the building, with significant differences between residential and business buildings:
"This is a more recent trend when it comes to residential complexes. To this point, one of the first developers of green certificate buildings, Studium Green in Cluj Napoca, finished its first project as late as 2014. In Bucharest, the first such buildings were finalized in 2016-2017. As regards commercial buildings, that is an area with a higher percentage of green buildings. The first of their type appeared around 2009, and the trend holds. When we talk about residential buildings, people are looking for better and healthier buildings. People are starting to think about the air they breathe indoors. It is not only about technology, but also about how to maximize natural light within a home, possibilities to provide natural ventilation, independence from mechanical devices, and less reliance on toxic volatile chemicals in interior finishes, which are known to be harmful. The quality of interiors is also related to how well sealed buildings are, and if there are pockets of higher temperature that encourage mildew. Materials are also very important in terms of toxicity."
Some buildings can be completely covered in living plants, and they are referred to as vertical gardens. Plaints are not just decoration, but provide a multitude of benefits. They reduce noise, have a cooling effect, provide fresh air and have a soothing effect on the tenants. In a green building, each apartment has access to a small oasis of vegetation with centralized irrigation and illumination. Also, vegetation is distributed so that even the smallest apartment has access to potted plants, while larger ones have entire planted areas. Here is Elena Rastei again:
"When we talk about planted areas, we have two types of impact on the terrain, if it is green or if it is barren. A barren plot is better from a sustainability point of view, when it is revitalized and reintroduced to the system, compared to a green plot that we destroy when we build. In the initial phase, a green plot has smaller impact on the sustainability index. However, we can also have a green plot on top of the building, on the roof. This green space can be of two types: intensive and extensive. It is intensive when we have trees, with a substrate at least 30 cm thick in order to sustain roots, with higher costs, with drip irrigation, and more attention needed to the support structure of the building. For instance, the Central District building in Bucharest has this combination of intensive and extensive green space. Extensive green spaces have a thinner substrate, at least 10 cm thick, which can be manually irrigated, with local, adaptable plants, that need less water."
This complex was named last year the highest performing residential building in Romania as part of an international competition judged in London, called the European Property Awards. Romania is actually a pioneer in innovative policies for the green building sector. The country reduced taxes for green buildings, and proposed the introduction of a so-called 'green mortgage', encouraging developers to build green, and customers to get a cheaper mortgage loan. Even though green buildings cost 20% more to build, an apartment in such a building is almost the same price as a regular one. In addition, the customer spends much less for maintenance in such a building.
At a European level, Romania is a young market in terms of green buildings. Before 2015, Romania had 200 green buildings. Right now, 6,000 homes in 22 projects are in the process of getting certified. In terms of business buildings, 50 buildings have applied for the American system of certification called LEED, and 80 of them have applied for the British system BREEAM. (translated by Calin Cotoiu)
www.rri.ro
Publicat: 2018-01-26 01:30:00
Vizualizari: 1670
Tipareste