Transylvanian smoked meat soup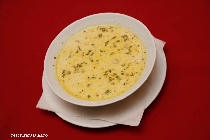 Dishes typical of the region of Transylvania, which has been heavily influenced by Hungarian and Austrian cooking
Today's show is dedicated to dishes typical of the region of Transylvania, which has been heavily influenced by Hungarian and Austrian cooking. As such, its cuisine it is generally heavier and richer, using lots of pork and lard. Tarragon is also used for a variety of soups, which seems to have been brought in by the Saxon population, ethnic German colonists settled there almost one thousand years ago. Also typical of the area is boiled smoked fatback coated with paprika. The latter is typical of Hungarian cooking, alongside sugar used in sauces and salads. Some notable dishes in the local cuisine are sauerkraut soup with sour cream, thick pork or beef soup with vegetables, tarragon flavored soup, and mixed meat stew.
The first dish we want to present today is Transylvanian smoked meat soup. The first step is to blanch the smoked meat, which can be any cut, in order to reduce its salt content. Take about half a kilo of smoked meat, eight to ten medium sized potatoes, two onions, two carrots, a cup of sour cream, two egg yolks, and vinegar to taste. Place the meat in boiling water for a few minutes, then cut it into small pieces. Bring to a boil 3 to 4 liters of water, adding the potatoes, the carrots and the onions, finely chopped. Separately, mix the egg yolks and the sour cream. Add small amounts of liquid from the boiling pot to the mix, diluting it to the point at which you can add it in without curdling. Add to the soup two or three tablespoons of vinegar, preferably tarragon flavored.
If you travel to Transylvania and find lodging with hosts in the Sibiu area, you may be treated to a veal dish prepared outdoors, over an open fire in a Dutch oven. To make something similar, cut the piece of veal into small cubes first. Chop finely a couple of onions, sweat them in oil, then add the veal with a bit of water and let it simmer for tree or four hours. At the end add a chopped pepper or chili paste, and ground black pepper to taste. Add salt to taste and garnish with chopped parsley. Enjoy!
www.rri.ro
Publicat: 2018-02-04 19:26:00
Vizualizari: 583
Tipareste