Romania-Bulgaria-Greece-Serbia meeting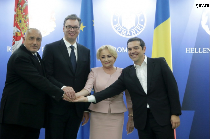 The prime ministers of three EU states – Romania, Greece and Bulgaria – and the president of EU candidate, Serbia, discussed European integration and joint economic projects.
Romania's Prime Minister Viorica Dancila was the host of a four-party meeting attended by her counterparts from Greece, Alexis Tsipras, and Bulgaria, Boiko Borisov, as well as by the president of Serbia, Aleksandar Vucic. The four leaders again reiterated their goals: common infrastructure projects, contributing to the development of the region, a consolidated dialogue and better cooperation within the European Union.
Prime minister Dancila emphasised that Romania, Greece, Serbia and Bulgaria form a group that promotes mutual and regional development. She reiterated that Romania supports Serbia on its path to joining the European Union. Dancila also reassured Bulgaria's prime minister Boiko Borisov that her country supports the agenda of Bulgaria's EU presidency, in which the Western Balkans play an important role. The Romanian prime minister also welcomed her Greek counterpart Alexis Tsipras on his first visit to Bucharest. She said Greece is a key partner for Romania in the region and that she wants to develop bilateral cooperation.
Serbia's president Aleksandar Vucic said his country could not achieve its goal of joining the European Union without the support of Romania, Greece and Bulgaria. He also showed an interest in improving road infrastructure among the four states. He mentioned projects to build a motorway in western Romania and others that should link Serbia to Bulgaria and Macedonia.
Convinced that the 4-state format is a successful endeavour, the Bulgarian prime minister Boiko Borisov also insisted on infrastructure projects, which have become the leitmotif of the meeting in Bucharest. Boiko Borisov recalled the project proposed by the Romanian prime minister to build a new bridge over the Danube, in Ruse, and spoke of a future motorway between Sofia and Bucharest. He also wishes to connect the Greek port of Thessaloniki to maritime ports in Bulgaria and Romania and improve the connection with Belgrade, Bratislava and Skopje.
The Greek prime minister Alexis Tsipras spoke about building a European future for the Western Balkans and emphasised the importance of interconnecting the countries in the region and drawing investors to rail, maritime and road transport. Athens sees it as a priority the connection between the ports in northern Greece and those at the Black Sea and the Danube, the interconnection with the railway network and the road connections between Thessaloniki, Sofia and Bucharest. The following high-level meeting between Romania, Greece, Bulgaria and Serbia will be held in Athens in June.
www.rri.ro
Publicat: 2018-04-25 14:09:00
Vizualizari: 445
Tipareste