Arieseni Tourist Area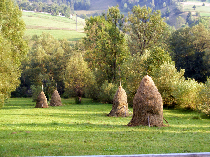 Today's installment in our regular Traveler's Guide series is devoted to the prize-winning contest "Alba Iulia - the city of the Union
The commune of Arieseni is one of the entrance points to the Apuseni Nature Park. The active tourism offer is very diversified, ranging from summer-time hiking to ski touring in winter, along established tourist routes. One can also practice climbing, cyclo-tourism, and alpine skiing on the Vartop ski slope during the cold season. Also, one shouldn't miss the opportunity to visit the caves where the access of tourists is allowed, and, weather permitting, people can enjoy canyoning, rafting and kayaking in fast waters. Also, the area boasts important cultural and heritage assets.
Today's installment in our regular Traveler's Guide series is devoted to the prize-winning contest "Alba Iulia - the city of the Union. " Our contest marks 100 years since the territories predominantly inhabited by Romanians got united in a national state. As for the area we're heading towards today, Arieseni in the Apuseni Mountains, traditions have not been altered by modernity there. Customs and traditions make a fascinating show for each tourist, but traditional cuisine should not be ignored either. All dishes are prepared with ingredients from the farms of the local guesthouses. And you shouldn't worry about your silhouette either, according to Carmen Preja, a tourism advisor with Alba Iulia' s National Tourism Information and Promotion Center.
Carmen Preja: "You can burn all the excess calories you stored by visiting all sorts of tourist sites, especially the natural ones, such as Dealu cu Melci ( the Snake Hill), the Pisoaia Waterfall, Detunata Cheala and Detunata Flocoasa, which are botanical and geological reserves, and extraordinary karstic formations. There is a Nature Park of the Apuseni Mountains, and we have been working very well with the rangers in the area, who have very beautiful headquarters and can offer additional information about tracks and routes. Summer is perfect for hiking and a growing number of tracks has been homologated and marked as such. The Mountain rescue Service - Salvamont - takes care of them and we hope we can live up to the standards that are normal for our times. As regards winter activities, there are ski slopes, and lots of facilities. Tourists have access to little wooden chalets with modest amenities, but also to four or five-star units, which can provide sauna, Jacuzzi and other special services."
Dealul cu Melci - the Snake Hill - is more than just a simple curiosity. It is a palaeontological nature reserve of national interest. From a geological point of view, It is a unique area, approximately 60-70 million years old, and traces of 35 mollusk species have been found there. Back in the day, the territory was covered in the warm waters of a sea, the Tethys Sea, providing the necessary conditions for such creatures to live. It was only the sediments that were left, which got petrified in time. However, one should not miss another two important sites. Speaking about that, here is Carmen Preja once again.
Carmen Preja: "The Scarisoara Cave is home to Europe's second largest glacier. It is a special karst phenomenon nobody should miss. Also, we should not forget about the Avram Iancu Memorial House, where the items on display remind us of various objects that our grandparents had in their homes. The area is very picturesque, and the hosts' hospitality is extraordinary. I strongly recommend that you come and visit these places."
Ioan Mocan is the owner of the 'Casa Motului' guesthouse, and one of the sponsors of our prize-winning contest. He will help us learn more about the Arieseni area.
Ioan Mocan: "The area is rich in cultural, historical and natural sites and assets: caves, waterfall glaciers, churches, monasteries. For instance, Rosia Montana is more than, 2,000 years old. It hosts an underground mining museum, unique in the world. We also recommend that you visit the town of Abrud, which, again, is more than 2,000 years old. The young can also hike all their way to various sites and can go rock climbing. For instance, they can climb the gorges known as 'Cheile Galbenei' or 'Cetatile Ponorului' (the Ponor Fortress), towards 'Groapa Ruginoasa'. Groapa Ruginoasa is a natural phenomenon, actually an erosion of the land, which grows by 2 meters every year. It is spectacular and it resembles the Grand Canyon in the US. I would also recommend the Vartop Glacier. It is natural and it is not lit, so visitors need flashlights to enter. The glacier is home to some insects that cannot be found anywhere on the surface. It's extremely interesting."
The Apuseni Mountains area is well-known for its crafts, wood carving in particular. In Tara Motilor, for instance, there are 200 years old houses. The locals speak of an ancient secret: correlating the phases of the moon with wood carving. But there are also other things that are of interest in the area, as Ioan Mocan, the owner of the 'Casa Motului' guesthouse told us.
Ioan Mocan: "Even here, in Arieseni, there are two museums and also there are ladies who work at home and make various items. Their husbands, too, make traditional wooden objects, using old carving techniques. So, visitors can watch the items displayed in museums, but they can also learn how to make such items, in people's homes. And this is valid for other places too, such as Avram Iancu, Vidra, Tarsa or Poiana Vadului. The largest event in the area is the rural tourism fair in Albac. Craftspeople from Transylvania and from all over the country come to the fair. Also, we have the wood carver's day hosted by the commune of Horea around August 15th."
Ioan Mocan has also told us that tourists come from all over the world:
"Our guesthouse is a 4-star facility, with 30 rooms, all equipped with wireless internet. Upon request we organize traditional evenings, with traditional songs and dances. We also organize mountain trips and we provide transportation in 8-seat vans. Tourists can also play table tennis and we also have a conference room. We've had tourists from Japan, Brazil, Costa Rica, South Africa, from all the countries in Europe, and also from Iraq, Iran, Israel, the US and Canada. We are also organizing events to celebrate the Union Centennial. For instance, we invited the Alba Iulia Philharmonics and they gave an one-hour concert. People had tears in their eyes, they could not believe that something like that was happening on top of the mountains in Romania. So, I warmly invite all the RRI listeners to come to Romania, come to Alba Iulia, and of course, participate in the contest."
To end, let us remind you that the deadline for the participation in our contest is June 30th, 2018. Good luck to you all!
www.rri.ro
Publicat: 2018-05-24 13:07:00
Vizualizari: 835
Tipareste