New Social Welfare Provisions in Romania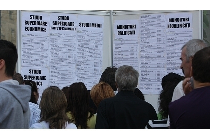 People who receive social benefits in Romania might no longer get money from the state if they refuse a job
According to a report made public by the National Bank, at the end of last year in Romania some 4 million people aged 15 to 64 did not have a job, were not looking for one and were not self employed. Also, according to the same data, only 10% of the inactive population would be available for work, but they however are not looking for a job. Moreover, in the past six years, the inflow of people starting or resuming work, out of the total inactive population, has been practically nonexistent. The total amount that the state earmarked for social benefits in December 2017 stood at some 13 million Euros, accounting for an average 60 Euro per person.
Things, however, seem to be changing. People benefiting from social welfare might no longer get money from the state if they refuse a job or a professional training course. The law that changed the regulations regarding the minimum guaranteed income has been promulgated by president Klaus Iohannis. In parliament, the bill was supported by all parties, and the initiators said the purpose was to encourage work and render beneficiaries more socially responsible.
Here is the deputy Stefan Baisanu, a member of the Alliance of Liberals and Democrats:
"It's time each citizen in Romania received incomes according to the work they carry out. This law is not about those who are indeed people with special needs, who must be helped, but for those who can work and must therefore be sent to work. Seasonal work is another solution, when there is need for such work in construction or agriculture."
According to the new provisions, in exchange for the amounts granted as social benefits, one or several people of age, capable of working, depending on the quantum of social benefits in the beneficiary family, must carry out every month, at the mayor's request, works that are of use at local level. This without exceeding the normal working hours and by observing the occupational health and safety rules. If it is proven that the family or a member of the family has obtained incomes from other sources, which have not been officially declared, the right to benefit from state welfare ceases.
The law also establishes the mayors' obligations. They must draw up an activity plan on the basis of the requests received from the companies that need labour force and operate in the respective area. If the mayor does not do that, they run the risk of receiving fines ranging from 200 to 1090 Euros. According to the law, families and people with no family, who are Romanian citizens, are entitled to a minimum guaranteed income, in the form of social benefits, granted by the Romanian state on a monthly basis to those who have very small or no incomes at all. In December 2017, some 250,000 people were benefiting from this type or social benefits.
www.rri.ro
Publicat: 2018-07-23 12:32:00
Vizualizari: 1102
Tipareste