Athlete of the week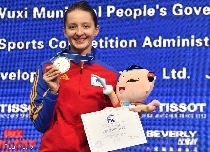 Fencer Ana-Maria Popescu
Romanian fencer Ana Maria Popescu this past Sunday walked away with silver in the women's singles epee event as part of the World Fencing Championships, underway in the Chinese city of Wuxi.
Ana Maria Popescu's successful trail includes wins against Japan's Kanna Oishi, Italy's Rossella Fiamingo and Ukrainian Joan Feybi Bejura and Olena Krivitska. In the semifinals, Ana Maria Popescu outclassed Courtney Hurley of the US, yet in the final the Romanian sustained a defeat by Italian fencer Maria Navarra. The performance was Ana Maria Popescu's career best in a World Championship; reason enough for Radio Romania International to designate Ana-Maria Popescu Athlete of the Week.
Ana Maria Popescu, better known to fencing lovers as Ana Maria Branza, was born on November 26th, 1984. For the first time ever Ana Maria Popescu compelled international recognition in 2001, when she won the title at the World Cadets Championships held in Poland. In 2002, Ana Maria Popescu reaped the world juniors title at the world championships in Turkey. 2002 turned out to be a special year for Ana Maria Popescu, who walked away with silver from the World Seniors Championships held in Lisbon.
At the Athens Olympics in 2004, when all Romanians' hopes were pinned on Ana Maria Popescu, the Romanian fencer came in 16th, an unassuming position back then. In 2008 in Bejing, however, Ana Maria Popescu braced up and won the silver medal, the highest distinction for Romanian fencing at the Beijing Olympics.
In 2010 and 2011, Ana Maria Popescu was part of the Romanian side that won the world epee title in the nations' competition. In 2013, at the European Championships in Croatia, Ana Maria Branza won gold in the women's singles and silver in the nations' competition. At the European Championships held in Strasbourg in 2014 and in Montreux, in 2015, Ana Maria Branza won gold in the nations' competition.
Ana Maria Popescu's career best so far occurred in 2016. At the Olympic Games in Rio, the Romanian fencer was part of the lineup that walked away with gold from the nations' competition.
www.rri.ro
Publicat: 2018-07-24 12:13:00
Vizualizari: 375
Tipareste