RRI Sports Club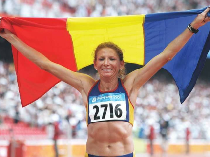 Athlete Constantina Dita Tomescu
The 29th edition of the summer Olympic Games was hosted by China's capital Beijing, exactly ten years ago. For the Romanian delegation, the biggest surprise was provided by marathon athlete Constantina Dita Tomescu, who walked away with the gold.
Few people had expected Constantina Dita Tomescu to reach the finish line among the competitors' upper echelon. Moreover, all hopes were pinned on another Romanian athlete, the silver medalist in Sydney, Lidia Simon. Contrary to all predictions, Constantina Dita Tomescu won the race like a great champion.
From kilometer 20, Constantina Dita Tomescu took the lead and did not abandon her position until the end of the race, despite all the efforts made by her main challenger, the Kenyan runner Catherine Ndereba. Ndereba came in 2nd eventually, while 3rd-placed was the Chinese athlete Chunxiu Zhou.
Immediately after the race, here is what Constantina Dita Tomescu told Radio Romania International, exclusively:
Constantina Diţă Tomescu: "I am very happy I scooped gold as I had won no medal at the Olympics, and an Olympic medal was my dream. I wasn't expecting to win. I did expect to win a medal, but to win the race? Never. The world's elite was here, there were very strong girls, and I did not expect to win the gold medal at their expense."
Constantina Diţă Tomescu was born in the village of Turburea, Gorj County, on January 23rd, 1970. Her best results came after she was 30. In 2005 Constantina Dita Tomescu won the Chicago marathon and went on to become vice champion of the world in the half-marathon event, in Edmonton, Canada.
At the Beijing Olympics, 38-year old Constantina Dita Tomescu became the oldest athlete ever to have won the Olympic marathon.
(translated by: Eugen Nasta)
www.rri.ro
Publicat: 2018-08-14 11:59:00
Vizualizari: 472
Tipareste