The priorities of the new parliamentary session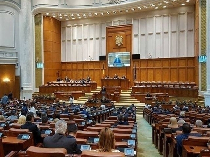 The regular parliamentary session began on Monday, with priorities including the pension law and the legislative package on the judiciary, which has been brought before the Constitutional Court
The agenda of the new regular session of the Parliament of Romania includes on the one hand new legislative projects, and on the other hand, the endorsement of several bills, which are challenged at the Constitutional Court. The priorities of the parliamentary majority, made up of the Social Democratic Party and the Alliance of Liberals and Democrats, are to pass a new pension law, to modify the national security laws and the law on adoptions. Power would also like to finalise the justice laws, which the Opposition and President Iohannis sent to the Constitutional Court for review, and to pass the Criminal Code, the Code of Criminal Procedure and the Offshore Bill, which regulates natural gas exploitation in the Black Sea and whose revision has been requested by the head of state.
Not least, the parties in power want the Romanian Intelligence Service to present Parliament with explanations as to the nature of the cooperation protocols it signed with the General Prosecutor's Office and other judicial institutions. The Romanian Intelligence Service and the General Prosecutor's Office have already explained that the protocols were lawful and had to do primarily with technical aspects, and that they were in fact denounced when the parties reached the conclusion that justice can be served without them.
On the other side, the right-wing opposition, comprising the National Liberal Party, the Save Romania Union and the People's Movement Party, will be focusing among other things on the resumption of the two-round voting system, on eliminating special pensions and on reforming the healthcare system. Not least, the opposition wants the Government to provide explanations concerning the violent clashes in Bucharest during the August 10th protest of Romanians living abroad, and the management of the crisis triggered by the African swine fever. We remind you that the opposition criticised the riot police response to provocations coming from people that apparently had nothing to do with the protests, which they see as a disproportionate intervention. The Liberals announced that they will try once again, in the current parliamentary session, to bring down the cabinet by means of a no-confidence motion.
The autumn parliamentary session does not begin with power and opposition on the best of terms, and political dialogue, which should govern the debates on new legislation, is rather problematic. On the other hand, disputes are also emerging between members of the same party. The latest meeting of the Social Democratic leaders has shed light on the wrangle between the party's authoritarian leader, Liviu Dragnea, and the Mayor of Bucharest, Gabriela Firea. A politician enjoying higher confidence rates than the party president, Firea did not hesitate to criticise openly the actions of Dragnea's close associate, the Interior Minister Carmen Dan, during the August 10th rally.
In theory, the tensions within the Social Democratic Party should strengthen the opposition, but the latter seems unable to capitalise on the situation. The Liberal leader Ludovic Orban finds himself challenged in his own party, and is seen by some as unable to lead the political battle against the Social Democrats. And the absence of reliable alternatives in opposition gives the Social Democratic Party the time to settle its internal disputes.(Translated by Ana-Maria Popescu)
www.rri.ro
Publicat: 2018-09-03 12:05:00
Vizualizari: 623
Tipareste