Sports Flash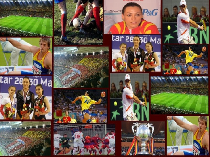 We bring you the latest from sports
Romanian tennis player Ana Bogdan on Wednesday sustained a 6-2, 6-1 defeat by 4th-seed contender Garbine Muguruzza of Spain, in a confrontation counting towards the round of 16 stage of the WTA tournament in Hong Kong, an event with 750,000 USD up for grabs. It took Muguruzza only one hour and 15 minutes to defeat Bogdan. We recall that Muguruzza had defeated Ana Bogdan before in the semifinals of this year's Monterrey tournament, 6-nil, 7-5. For her performance, the Romanian will receive a cheque worth 7,195 USD and 30 WTA points.
The Romanian-Dutch pair made of Horia Tecau and Jean Julien Rojer was edged out of the ATP Masters 1,000 Tournament in Shanghai, an event with 7, 086, 700 USD in prize money. Grabbing a 6-4, 6-7, 11-9 win against Tecau and Rojer in the tournament's round of 16 was the all-Colombian pair made of Juan Sebastian Cabal and Robert Farah. The 5th-seed pair secured their win after one hour and 41 minutes. Tecau and Rojer had been defeated last week in the first round of the Beijing tournament by the same Colombian pair. The Dutch-Romanian pair will receive a cheque worth 27,450 USD and 90 ATP points. After their failure in the Shanghai tournament, Tecau and Rojer stand no chance of qualifying for the Champions' Tournament.
Romanian men's basketball team U-BT Cluj Napoca this past Wednesday missed the chance to make headway into the group stage of the FIBA Europe Cup, in spite of their 89-88 home win against Israeli opponents Ironi Ness Ziona, in a fixture counting towards the second leg of the second preliminary round. UB-T Cluj Napoca's win counted only for the team's record. The win was sealed by the team's Serbian player Aleksandar Rasic, who succeeded a three-pointer, three seconds from time. In the first leg, UT-B Cluj had sustained a 91-78 defeat by Ironi Ness Ziona.
We go out with news from men's handball, as in the domestic championship's derby CSM Bucharest grabbed a 27-24 defeat against Steaua Bucharest. The game was hosted by the town of Chiajna in the south, and counted towards the National League's 6th round. In the standings, CSM Bucharest are at the top of the table with 16 points, followed by CSM Focsani 2007, Potaissa Turda and Dinamo Bucharest, each with 13 points.
(transalted by Eugen Nasta)
www.rri.ro
Publicat: 2018-10-11 12:05:00
Vizualizari: 241
Tipareste