The pension law in the spotlight again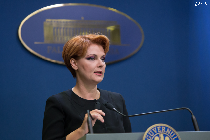 The Romanian Government has passed a new pension bill at the proposal of the ministry of labour and social justice
The new pensions bill has been approved by the Romanian government before being sent to Parliament. According to the labour minister Lia Olguta Vasilescu, the standard retirement age and contribution levels remain unchanged, and all pensions will be recalculated. She has announced that the pension point will increase gradually until 2021. Next year, it will stand at 270 Euros, in 2020 at 380 Euros and in 2021 at 400 Euros. She has added that pensions will not decrease after the enforcement of the new law.
Here is labour minister Lia Olguta Vasilescu:
"The pensions bill stipulates that no one will receive less money. If the recalculation leads to a lower amount than the amount currently received, then the latter will be maintained. The standard retirement age will not be altered, nor will be the minimum and full contribution levels. Another novelty is that women who have contributed in full for 15 years and have given birth and raised three children can retire 6 years earlier."
To be able to retire early, Romanians need to have worked for at least 15 years. As a first, persons who do not meet this requirement when the law comes into force will be able to choose to receive the minimum social benefit if it's bigger than their pension. Other novelties of the new bill include considering the periods studying for the masters and doctoral degrees as non-contributory periods assimilated to the contribution period, just like in the case of university, military service, the disability pension, medical leave, child rearing leave, unemployment benefits, deportation, prison time and political detention.
Like the old law, the new one also provides for four types of pension: old-age pension, early retirement pension, disability pension and successor pension, but some have seen certain changes in terms of structure. The optional insurance contract is maintained, albeit with a few changes. While under the current law, payments can be made for only five consecutive retroactive years, in the future, the person in question will be able to choose different non-contributory periods totaling five years. The minimum pension is calculated based on the gross minimum wage in the respective year.
Persons who have contributed for at least 15 years receive 45% of the gross minimum wage, with 1% being added for each year they contribute. All salary rights for which contributions have been paid will be taken into account, including benefits, global agreements, bonuses, overtime, etc. The new bill also aims to improve online access to information about people's own contributions.
(translated by Cristina Mateescu)
www.rri.ro
Publicat: 2018-10-11 12:17:00
Vizualizari: 119
Tipareste