Sports Flash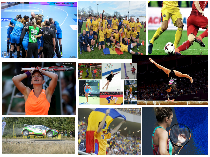 The latest from sports...
Romania's Under-21 national football team in November could play a friendly game against the similar French eleven. That could be the first test match ahead of the European Under-21 Football Championship, to be hosted by Italy in 2019. Romania made it to the final tournament having gained the top position in group 8, with a no-defeat record sheet. We recall that Romania last qualified for the European Youth championship twenty years ago, when it played host to the European Youth Championships, in 1998.
In other news from football, Romanian League One's derby pitting Universitatea Craiova against FCSB will be played at the weekend and is already an attention-grabbing event for TV sports channels. Ahead of the derby match in Craiova, Digisport.ro quoted FCSB's owner Gig Becali as saying he was willing to offer 5 million Euros for Craiova's Alexandru Mitrita and Nicusor Bancu, whom Becali has rated as League One's best footballers. Mitrita and Bancu were part of Romania's pool of regulars for the national squad's UEFA Nations League fixtures last week. Both Mitrita and Bancu were part of Romania's lineup against Lithuania, a match Romania won, 2-1, but were substitutes for Romania's home fixture against Serbia, which ended in a blank draw.
Romania' water polo team Steaua Bucharest had a not so auspicious debut in the Champions League, as in their own swimming pool, Steaua sustained a 8-5 defeat by Italian contenders Brescia, in a match counting towards Group A's first stage. Steaua's second match will also be a home confrontation, as on November 2nd they take on Hungarian opponents Ferencvaros Budapest.
We go out with news from women's handball, as Romania's champion team CSM Bucharest ended their collaboration with Swedish head coach Magnus Johansson. Until a new head coach is appointed, the current deputy coach, Adrian Vasile, and Mihaela Ciobanu, who is responsible for goalkeepers coaching, will train the team. In the ongoing season, with Johansson at the helm, CSM missed the chance to grab Romania's Supercup, which went to SCM Ramnicu Valcea, while in the national league, CSM sustained a home defeat, also by SCM Ramnicu Valcea, and an away defeat, in the Champions League fixture against German opponents Bietigheim.
www.rri.ro
Publicat: 2018-10-18 12:36:00
Vizualizari: 382
Tipareste