Colectiv, three years on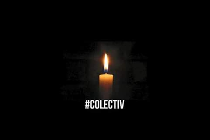 Three years on from the devastating blaze that ripped through the Colectiv night club in Bucharest, Romanians believe the tragedy can repeat itself anytime because many things have remained unchanged.
On October 30th, Bucharesters commemorate three years since the devastating blaze that destroyed the Colectiv night club in Bucharest killing 64 and wounding over 100. A young man wounded in the blaze killed himself two years after the tragedy. Eugen Iancu, president of the Colectiv GTG 3010 Association and father of a young man who lost his life in the blaze told the journalists, quote: "Three years have passed since the blaze, and this entire time people who suffered injuries have been desperately trying to recover as much as possible, for they will never recover 100%. They are tired of surgeries, anesthetics, doctor appointments and pain."
After the tragedy, Romania's healthcare system hasn't changed very much, being still plagued by the shortage of personnel and lack of proper equipment. Adina Apostol, one of the survivors, said that most of those who survived the tragedy and hospital infections are now running the gauntlet of the recovery procedures. Rescue teams may be quick to respond in such cases but the shortage of hospital beds and the proper equipment is taking its toll on the survivors.
According to health minister Sorina Pintea, Romania can offer proper treatment for only 11 severely burnt patients and is likely to resort to foreign support in case of a similar tragedy. In fact, no country in Europe can offer proper treatment to such a large number of victims as in the Colectiv case, Pintea went on to say. Three years on from the Colectiv tragedy, parents and survivors alike are still angry with the Romanian justice, which has failed to find and punish the culprits. Legal procedures in the Colectiv file have resumed this month, after the magistrate in charge of the casehas retired. November 9th was set as the date for submitting the evidence and for starting the hearing of the witnesses.
The situation hasn't improved in terms of safety measures either. The latest data released by the General Inspectorate for Emergency Situations show that there are still problems when it comes to granting fire safety certificates to certain night clubs, bars and restaurants. Three years since the tragedy, 6% of the pubs are still functioning without such a certificate.
A show inspired by the Colectiv tragedy was mounted on the stage of the National Dance Center in Bucharest under the title '153 seconds' with a screenplay based on a survivor's story. The project has been coordinated by director Ioana Paun who talked to survivors, sociologists and psychologists and staged a show on accepting one's destiny. The title, '153 seconds' has been inspired by the duration of the fire that ripped through the building.
www.rri.ro
Publicat: 2018-10-30 13:49:00
Vizualizari: 1061
Tipareste