Pumpkin Time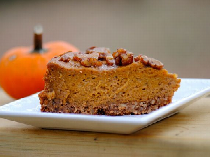 Pumpkin is a ubiquitous ingredient in European cooking
Pumpkin is a ubiquitous ingredient in European cooking, from Scandinavia to the Balkans, and Romania is no exception. Around October and November, farmer's markets fill with all the varieties of shapes, sizes and colors pumpkins come in. Recently, as the Romanian market opened up to the world gradually over the last two decades, you can see new varieties being introduced, such as varieties of squash. Larger varieties are even used as containers in which cabbage rolls are cooked. After cutting out the top part and seeding the pumpkin, lay in cabbage leaves and add the pre-cooked cabbage rolls. Cover with another layer of cabbage leaves, then put the pumpkin in the oven, cooking for another hour over low heat.
Irrespective of what they look like, edible pumpkins and squashes are consumed with relish by Romanians, who use it mostly to make desserts. The simplest way to prepare pumpkin, widely used all over the country, is to simply cut the pumpkin into slices, cleaning out the gunk and seeds, and to bake it into the oven.
However, a very popular autumn dessert is pumpkin pie, which is very different from the hugely popular American recipe, resembling a Viennese strudel. Most people use store bought thick pastry sheets, but you can make your own, even though they are laborious. Peel and seed the pumpkin, then shred it on the large gauge shredder. Either put it in a strainer, allowing it to drip out the juices, or melt butter in a large pan and sweat it until soft, and until the juice reduces and it becomes sticky. Use a large shallow oven dish for the pie, preferably buttered. Lay a sheet of dough on the bottom, then a layer of pumpkin, and on top another layer. You can add more layers if you want. Make sure you pierce the top layer with a fork to allow steam to escape and not ruin the pie. Bake for 30 to 40 minutes on moderate, sprinkling powder sugar on top. Enjoy!
www.rri.ro
Publicat: 2018-11-04 15:14:00
Vizualizari: 465
Tipareste