Romania, ready to take over the EU Council presidency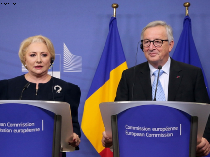 The Romanian Government is committed to successfully carrying out the rotating presidency of the Council of the EU next year
Having joined the European Union on January 1, 2007, Romania will for the first time hold the rotating presidency of the European Union Council. Still, doubt has long surrounded Romania's capacity to successfully carry out this task. The ruling coalition made up of the Social-Democratic Party and the Alliance of Liberals and Democrats from Romania has changed the Government structure three times in a single year.
The left-wing's efforts to amend the justice laws and the criminal legislation were perceived as an attempt to subordinate the judiciary and thwart the fight against corruption. A long political war has been waging between President Klaus Iohannis and the Social-Democrat strongman Liviu Dragnea. Last month, one of the key figures surrounding Romania's EU Council presidency, Minister for European Affairs, Victor Negrescu, stepped down, at the end of a conflict with his fellow Cabinet members. Both the European Commission and Parliament have openly criticized the ruling coalition in Bucharest.
As a result, Prime Minister Viorica Dancila was summoned in Brussels to ensure European officials that Romania will be able to successfully see through its term in office. After Wednesday's joint session of the Government in Bucharest and the European Commission, the latter's president, Jean-Claude Juncker, recalled that in March Romania will have to finalize the Brexit deal. In addition, the EU must decide on the baseline of the upcoming financial framework. Romania will have to deal with 257 files in only four months, before the campaign for the European Parliament election kicks off.
Jean-Claude Juncker: "We all noticed that the Romanian Government is well-prepared for this presidency. Romania has a difficult task ahead, we must agree on the baseline of the upcoming financial framework".
There are still divergences between the Romanian Government and the European Commission as regards the rule of law, President Juncker argued, adding however they have nothing to do with the presidency, but with bilateral relations. In turn, Viorica Dancila said: "Romania is both ambitious and realistic about this presidency. Ambitious in the sense that we want to implement as many files as possible on our table, to reach a political agreement regarding the multiannual financial framework. And realistic because we know Romania will serve as an impartial mediator, a facilitator of equilibrium and consensus. We must have consensus among member states for the important topics on our agenda. Europe is divided in this respect, and it won't be easy to reach consensus".
Romania will continue to promote its national strategic objective, namely the free movement of its citizens, the Romanian Prime Minister went on to say. President Juncker also expressed hope that, by the end of its term in office, Romania will be admitted in the Schengen area.
www.rri.ro
Publicat: 2018-12-06 15:18:00
Vizualizari: 793
Tipareste