Personality of the year 2018 on RRI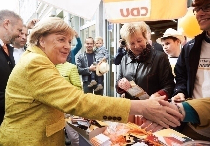 RRI has continued its traditional polling of listeners on shortwave, the Internet and social media, with a new challenge, asking you to designate the personality that you think left their imprint on the world, in a positive way, in 2018
The politicians nominated were Nobel Peace Prize winners Denis Mukwege and Nadia Murad, the US president Donald Trump, the Russian president Vladimir Putin, the Romanian President Klaus Iohannis, the Romanian Prime Minister Viorica Dancila, the Italy Deputy Prime Minister Matteo Salvini, the former US President George H.W. Bush, who has died recently, aged 94, the Mexican President Andres Manuel Lopez Obrador, the South and North Korean leaders Moon Jae-in and Kim Jong-un respectively. Also, several RRI listeners nominated the Saudi dissident journalist Jamal Khashoggi, who was brutally assassinated at the Saudi Consulate in Istanbul.
Proposals for 'the Personality of the Year 2018 on RRI' also included athletes, such as the Romanian tennis player Simona Halep, number one in the WTA rankings, the Serb tennis player Novak Djokovic, the great Romanian handballer Cristina Neagu, the French football player Antoine Griezmann and the former Romanian-born backstroke swimmer Roxana Maracineanu, who is the Minister of Health and Sports in France.
Other nominations made by you, our listeners, included the late US actors Burt Reynolds and David Ogden Stiers, the patriarch of the Romanian Orthodox Church, Daniel, the mysterious British urban artist Banksy, the young Spanish violinist Ines Issel Burzynska or the South Korean K-pop Bangtan Boys band.
So, based on the nominations made by the RRI audience, "The Personality of the Year 2018 on RRI" is the German Chancellor Angela Merkel.
"Ms. Merkel, as a European leader, has done a lot for Germany and for the world in general; and, most importantly, she understood on time that it was time for her to resign" reads the argument presented by Olexandr Kuzeminksi from Ukraine."
We recall that Angela Merkel has been nominated before, for "The Personality of the Year 2015 on RRI".
www.rri.ro
Publicat: 2018-12-31 12:00:00
Vizualizari: 3527
Tipareste