An Outing to Zarnesti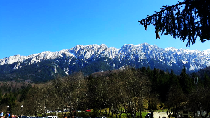 Today we are headed to one of the gateways to the Piatra Craiului National Park, Zarnesti
Today we are headed to one of the gateways to the Piatra Craiului National Park, Zarnesti. Here you can find a park museum, a church representative for medieval art, erected more than five centuries ago, an adventure park and a 70-ha bear sanctuary, unique in Romania. It is an area where you can practice cycling, trekking, mountain climbing, or wild animal watching. We will be talking about all this, and about the 2019 event calendar, with Stefan Balogy, the coordinator of the Tourism Information Center.
Zarnesti is an exceptionally accessible destination, lying less than 30 km outside of Brasov, a major urban center, which can be reached by car or rail. The tourism information center is at the center of town, easily spotted next to the central bus station. Here is Stefan Balogy:
"Zarnesti is a small mountain town, with a population around 20,000. Before 1989, the main activity here was in industry, but gradually the town adapted to being a tourist destination, with its main attraction being the Piatra Craiului massif. It is a destination for lovers of active tourism, and here we find unlimited possibilities of spending time outdoors, no matter the season. You can not only relax in nature and discover new things, but you can get to know an eco-tourism destination. I am underlying this aspect, because Zarnesti- Piatra Craiului is the first eco-tourism destination in Romania licensed by the Ministry of Tourism. Only four such venues can be found at this time in Romania, fully authorized."
There are also many types of lodging, as Stefan Balogy told us:
"The area is great for tourists on a budget, but to all others too. We have a one or two star cabins, but also four star hotel compounds, as well as spa and relaxation centers. Tourists can very easily find lodging suited to their budget here. The number of tourists is rising every year. In 2018, we had over 6,500 tourists. They came straight to us for information. 43% of them were Romanians, and the other 57% were foreign. The majority of visitors who visit and seek information directly or on-line are foreign tourists. The largest percentage, 28%, come from Germany. The interesting thing is that they are not ethnic Saxons. They are tourists who found out about this area, about the beauty of the Carpathians, and come to visit Piatra Craiului. The next largest group are Israelis, 27%, followed by the Brits, the Spanish, the Portuguese, and the French."
Stefan Balogy told us that although Zarnesti is a great place for anyone to visit, their promotional activity focuses on family tourism, with emphasis on longer vacations spent there:
"We recommend a few treks, of various levels of difficulty, from one or two hours to ones that take 10 to 12 hours. Right now, we have 42 mountain trails, very well marked, the maps of which can be downloaded to a smart phone. Also last year, we started emphasizing bicycle tourism. There are 11 marked trails for cyclists in Piatra Craiului National Park. They link Zarnesti with the surrounding mountain villages, Bran and Pestera, for a sum total of over 120 km. Another attraction is horse riding. We have four horse-riding centers offering horse rides to the nearing forests, and sleigh rides during the winter. Also, mountain climbing and free climbing is very popular in the best known place in Piatra Craiului, Cheile Zarnestiului. This is also the most popular tourism spot, since it is very accessible. One novelty we offer is paragliding or motorized paragliding, an extreme sport which nevertheless has a lot of fans."
During the spring and autumn, most tourists come to watch wild animals in the forest, being attracted mostly by large carnivores. There is a lot to do there in winter too. For the last few years, cross-country skiing has become more and more popular, and several trails can be found at the bottom of Piatra Craiului mountain, which can also be covered with snowshoes. Stefan Balogy told us about it:
"We recommend tourists to go to the National Park Visitors' Center, a very interesting interactive museum. There you can find a great presentation for the entirety of the Piatra Craiului nature reserve, with state of the art means: dioramas, video projections, and 3D projections. We also recommend a visit to the Liberty Bear sanctuary, labeled by National Geographic Traveler as the most ethical wildlife attraction in the world. It is the largest brown bear sanctuary in the world. It was set up ten years ago by an association set up in Brasov. 107 bears live on the over 100 ha of the reservation. They live outdoors, not caged up. The entire area is open forest, surrounded by an electric fence, with the bears roaming free. We have guided tours, and the number of tourists is limited, in order to not disturb the animals in their natural habitat. All the bears who make their home here are rescue animals who used to be held in captivity in improper conditions. Now they have been rescued and live there in very good conditions. Many celebrities have visited this place, such as Brigitte Bardot, Natalie Imbruglia, Lionel Messi, Leonard Lewis, and recently Evanna Lynch."
The Tourism Information and Promotion Center is open every day of the week. You can also access the visitzarnesti.ro website in order to get the latest weather data, as well as information about available lodging.
www.rri.ro
Publicat: 2019-01-10 14:08:00
Vizualizari: 772
Tipareste