The Romanian and world economy in 2019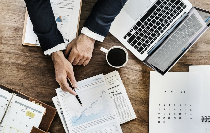 Romanian economy to grow by 3.5% in 2019, according to World Bank report
Romania's economy will grow by 3.5% in 2019 and by 3.1% in 2020, down one percent as compared to the forecast of June 2018, as indicated by the 6-month report Global Economic Prospects recently published by the World Bank. This international financial institution estimates that in Europe and Central Asia, the economy slowed to 3.1% in 2018, down from 4% in 2017, reflecting slumping economic activity in Turkey in the second half of last year. If we discount Turkey, regional growth is stable at 2.9% in 2018, because slowing economic activity in Bulgaria and Romania was compensated for by increased activity in the east of the region, which benefited from higher crude oil prices last year, according to the World Bank.
The rise in the world economy is expected to slow down to 2.9% this year, as compared to 3% last year and 3.1% in 2017, while the growth rate of world trade is expected to slow down to 3.6% this year as compared to 3.8% last year and 5.4% in 2017. The World Bank expects that this will affect industries all across the world and that there is a growing risk for the global economy, with worsening prospects against the background of harsher financial conditions, growing trade tensions, and turbulence on financial markets in some emerging or developing countries. World Bank Chief Executive Officer Kristalina Georgieva has pointed out that "At the beginning of 2018 the global economy was firing on all cylinders, but it lost speed during the year and the ride could get even bumpier in the year ahead".
At the same time, the trade war between the US and China will have repercussions across the world, and could also increase instability on financial markets, which will affect developing economies. Computations show that the growth of the largest economy in the world, the US, would slow down to 2.5% this year from 2.9% in 2018, while China is supposed to have 6.2% this year from 6.5% in 2018. The Eurozone is expected to grow by 1.6% this year, as opposed to 1.9% last year, the report indicates. As for Romania, the World Bank expects it to see a 4.1% growth in GDP for 2018, down one percent from the June 2018 forecast. The growth rate is expected to go down even further in 2021, when it is forecast to reach 2.8%. Romania continues to be a dependent economy and to have a trade deficit, with Romanians spending on average 48% of their family budget on food, centralised data indicate. Speaking on Radio Romania, professor Mircea Cosea did an analysis of foreign trade right now:
"We have specialised in an industry that overwhelmingly manufactures equuipment and parts for the car-making industry. Romanian has become a great producer of components and parts, all that has to do with car manufacture, meaning an industry that is detached from the technical progress. While others lead by designing and conceiving the product, we manufacture it in factories where workers assemble it. This is not bad, either, because it creates jobs. Romanian exports today depend 50 to 70% on industrial exports to a few developed countries, usually three, Germany, France, and Italy, to which we export parts for cars, engines, components, all sorts of things. If the car market collapses in the West, and that moment is not far off considering what's going on with movements in France and Germany, but also because of Mr. Trump's trade war. We might find that there will be no more orders for cars, and we won't even be able to export that. What else are we exporting right now? We also export various other types of industrial products, even from the IT area, but over 60% of the value of these products are imports. We have an economy dependent on developed countries, generally the core of the EU, and we depend on them for the good running of the market."
On the other hand, experts are expecting a rise in banking interest rates this year, after a long period of time in which, in an attempt to combat the effects of the financial crisis, central banks have kept interest rates at unusually low levels. The effects will probably make themselves felt in Romania too, according to financial analyst Aurelian Dochia:
"I believe the prospects for 2019 are fairly good, but they are strictly dependent on the evolution of the Romanian economy. Many economists and international institutions believe that the growth rate will fall, including in Romania, even if it will be much higher than in other European countries, especially in the Eurozone. And that means that the pace of growth in the banking system and in lending might see a more moderate rate."
Aurelian Dochia believes that the measures taken by the National Bank of Romania on limiting lending to private individuals, which came into effect on January 1, will only affect a small category of persons, and will not have an overall negative effect on bank lending.
www.rri.ro
Publicat: 2019-01-11 15:16:00
Vizualizari: 1030
Tipareste