Priorities of Romania's presidency presented in Strasbourg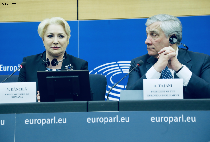 Romanian PM Viorica Dancila presented European MPs the priorities of Romania's EU Council presidency
Two weeks after Romania took over, for the first time, the presidency of the Council of the European Union, PM Viorica Dancila went to Strasbourg to present MEPs the priorities of the country's six-month mandate.
Only several days before, the President of the European Commission Jean-Claude Juncker, the President of the European Council Donald Tusk and the President of the European Parliament Antonio Tajani travelled to Bucharest for the official launch of Romania's mandate.
Unlike the meeting at the Romanian Athenaeum in Bucharest, which was rather festive, the meetings in Strasbourg were concrete and often polemical. Brexit and the negotiation of the EU budget for the 2021-2027 period are the most important issues that Bucharest will have to tackle in the upcoming period, PM Dancila has said.
A total of 257 dossiers have to be debated in only four months, given the start of the election campaign for the European Parliament elections in May. It is important, PM Dancila has said, to show the European citizens that the EU institutions are working for them. Europe has always managed to overcome the obstacles and recover after less fortunate episodes of history, Dancila went on to say, pledging to put cohesion at the centre of the Romanian presidency's agenda.
Viorica Dancila: "Emphasis will be laid on political cohesion, illustrated by the need for unity among member states, economic and territorial cohesion aimed at reducing the development gaps among member states and regions and social cohesion, important through the perspective of preserving the four freedoms of the domestic market of the European Union."
Bucharest also plans to regulate the Energy Union, to have a coherent management of migration flows, through cooperation between the countries of origin and the transit countries, and to extend the competences of the European Public Prosecutor's Office. Special attention will be also paid to the Western Balkans.
PM Dancila has also reminded that postponing Romania's Schengen accession is regarded by Romanians as an inequity. In keeping with procedures in Strasbourg, after Prime Minister Dancila's speech the opinions of the European Parliament's political groups followed. Predictable enough, the European Socialists and the Democrats, with whom the Social Democratic Party, the main party of Romania's ruling coalition is affiliated, have supported the agenda presented by Dancila. In their opinion, having a single energy market, solving the migration problem and ensuring the security of the EU are very important.
On the other hand, the Green, left and Liberal MEPs did not hesitate to criticise the state of things in Bucharest, where the perseverance with which the ruling coalition made up of the Social Democratic Party and the Alliance of Liberals and Democrats is ignoring the street protests and is pushing to change the justice laws and criminal codes is seen as an attempt to subordinate magistrates and put an end to the anti-corruption efforts.
www.rri.ro
Publicat: 2019-01-16 13:49:00
Vizualizari: 745
Tipareste