Shrove Tuesday Dishes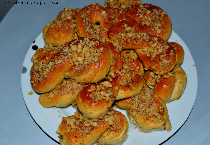 Lent starts next week for Orthodox believers who, for the following seven weeks are not allowed to eat meat
Lent starts next week for Orthodox believers who, for the following seven weeks are not allowed to eat meat, with the exception of several days when they may have fish. The beginning of Lent is marked through a family dinner on Shrove Tuesday. According to tradition, on this day the young ones are paying visits to their parents or other older relatives while godparents are getting ready to receive their godsons and goddaughters. There are many customs observed during this period and also superstitions related to it. Alms-giving and handouts, for instance, are common these days in most of rural Romania and in some cities. A special dish that can be part of the Shrove Tuesday dinner or offered as alms, is fried chicken with apple sauce.
In order to prepare this dish cut the chicken into slices and fry them in oil or butter. Pour a little bit of water and leave the mixture to simmer for a while adding pepper and salt to taste. The next step is to prepare the apple sauce for which you'll have to peel and slice about a kilo of apples. Sauté the apple slices in a small quantity of oil adding a little sugar and tomato sauce until it turns into a paste. Pour this paste over the fried chicken and serve it hot with a glass of white wine. Enjoy!
On March 9th, Orthodox Christians observe a major holiday, the feast of the forty martyrs of Sebasta, an ancient Armenian city. On the same day, Roman Catholics observe the feast of the 40 martyr soldiers of Cappadocia. In Romania, this day is traditionally celebrated with a special dessert, which is specifically meant to physically symbolize the martyrs. However, there are regional differences in terms of which form this dessert takes in various parts of Romania.
In Moldavia, the eastern province in Romania, the locals make forty figure eights from dough baked in the oven, doused in honey and minced walnut, while in the southern province of Wallachia they are tine figure eights made from raw pasta dough and boiled in sugar water. Today's recipe is for the baked variety. Here is how you make them: Take one kilo of flour, 200 grams of sugar, a cup of milk, 100 grams of butter, 6 eggs, yeast, some rum essence if you want, some grated lemon rind, as well as walnuts and honey for the coating.
Mix the yeast in the warm milk, then pour it over the flour in a large kneading vessel. Add in the separated egg yolks which you previously mixed with melted butter. Knead the mixture for about 20 minutes, then leave in a warm place to rise. Tear off pieces of the dough, and roll them into thumb thick strands, which you then twist in the shape of an eight. Lay them on an oiled tray, then put into the preheated oven. When they are golden brown, take them out and right away smear them with honey and sprinkle minced walnut on top. Enjoy!
www.rri.ro
Publicat: 2019-03-10 14:30:00
Vizualizari: 547
Tipareste