Education for life, in school and at home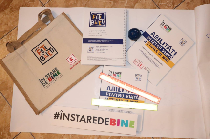 "Youth for youth' Association initiated a project called 'For girls and boys'
Recently, 154 teachers who are teaching at least 4,200 students from 8 counties of Romania and from Bucharest have benefited from training provided under a project called "For girls and boys" run by the Association "Youth for Youth". The purpose of the project is to approach issues specific to puberty with secondary school pupils, especially with 6th and 7th graders.
They have chosen this age group because they have identified a major lack of information among high school students, although adolescents should have had better knowledge of their body, emotions and dangers specific to their age. The same lack of information is also considered to be partly responsible for certain worrying statistics: annually 10% of women in Romania who give birth are under age, and 6 out of 10 teen mothers have never had access to information about reproductive health. Although public education has provided an optional course on 'Education for health' starting in 2004, which can be taught from the 1st grade to the 12th grade, only 6%-7% of the students in the pre-university system took this course in the 2017-2018 school year.
This is the context in which the ' precisely in order to help teachers tackle these sensitive issues with the students. They are sensitive issues both from a psychological and physiological point of view, says Adina Manea, the project coordinator:
Adina Manea: "The programme addresses form masters, whether or not they teach the optional course 'Education for health'. What we have produced, namely the teaching materials for the teachers and the workbook for pupils, can be used both during the educational class and during the 'Education for health' class, where such classes are held. During puberty, apart from the occurrence of natural hormonal changes which teenagers may or may not understand, which may or may not be explained to them, there emerges a new range of emotions. It is important for them to learn how to deal with these issues. Moreover, at this age, children are very interested in communicating with and relating to the others, including in a romantic way. How we communicate with one another, what persuasive communication means, how we protect ourselves and what virtual communication means, what one's self-image is in the real and virtual environments, are also issues of interest to children. Children are meaner to one another, but they are also vulnerable to ill-intentioned people they may meet online. Young people need to learn how to discriminate between different attitudes."
Teachers and students have learnt how to better communicate with one another in relation to issues such as the human body and its development during puberty, self-esteem and relationships, ways to prevent violence, values, family and plans for the future. But while pupils are poorly informed on these issues, the question is how prepared teachers are to approach them.
Adina Manea: "The most important thing as far as teachers are concerned is that they intend and are willing to contribute to the children's good. Teachers also admit that they lack in-depth understanding of certain issues of the younger generations, and that they need support by means of training. From the very start, we have intended to include parents in this discussion. After a period of training, teachers went back to their classes, where they used what they learned during our courses. Furthermore, the teaching staff, the pupils involved in the project, and the volunteers of the Association 'Youth for youth' are organizing activities in which they also invite parents to talk about these issues. Thus, parents are invited to recollect their puberty and the difficulties they had in coping with the issues typical of this age, to realize the importance of supporting their children through this natural process, from puberty to adolescence."
Of the schools that participated in the project 'For girls and boys', 29 were from urban areas and 16 from rural communities. It is common knowledge that the rural areas in Romania are quite disadvantaged from many points of view. Here is Adina Manea with more:
Adina Manea: "We wanted to see the response of the parents and students from rural areas, which, according to statistics, are faced with poverty, lack of opportunities and reduced education level. Plenty of data clearly shows that, at present, rural areas are at a disadvantage against urban areas. We wanted to see if the reaction of people in those areas is as grim as the statistics suggested, but they had a very good response. Everybody was happy with the impact of these courses on children and the way in which the meetings with parents unfolded."
It remains to be seen to what extent the model of communication between teachers and children implemented by the Association 'Youth for Youth' will be applied so as to boost the level of information and self-awareness among teenagers.
(translated by: Lacramioara Simion)
www.rri.ro
Publicat: 2019-03-13 13:22:00
Vizualizari: 539
Tipareste