A tourist in Romania's salt mines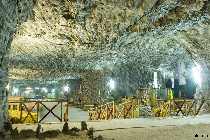 Tourists' interest in salt mines has been growing in time.
Tourists' interest in salt mines has been growing in time, and the curative properties of salty air have led to the development of speleotherapy and climatotherapy, treatments that people can benefit from in the underground, in a salt mine. There are salt mines where amusement parks have been built for both children and adults, as well as relaxation areas and museums.
Daniela Pop, a marketing representative of the National Salt Company (SALROM) presented to us some of the most beautiful salt mines in Romania: "We manage seven salt mines, and five of them are open to tourists. They have access to places which are very beautifully decorated and equipped, they are genuine national treasures. We manage Praid mine in Harghita County, Slanic in Prahova county, which is the closest to Bucharest, Ocnele Mari in Valcea county and Targu Ocna and Cacica in the eastern region of Moldavia. We cover the entire country. Tourists can visit these mines any time during the year, both in summer and in winter, because temperature in the underground is constant."
Most salt mines have set up special leisure facilities in the underground, to help people spend a pleasant time there. Here is Daniela Pop with more: "Unless advised otherwise by a doctor, because there are people suffering from certain diseases who are not allowed to go down into a salt mine, visitors can spend two or three hours in the underground together with their children. In Praid, for instance, we have a beautiful adventure park with a zipline, a playground for children, so entire families can spend time there and breathe clean air, which has never been polluted and is very good for their health. The most popular of our salt mines is Praid, in Harghita county. The place also has a restaurant, a concert area and it hosts lots of events. The region of Sovata-Praid per se is quite beautiful. We intend to bring more services into the salt mine, such as audio books with presentations in several languages."
Romania is famous for its salt mines. According to studies conducted recently, in Romania you will find places with the purest air on the planet. Also, Romania is home to the biggest salt mine in Europe, Prahova, which is located 120 km from Bucharest.
And, although there are similar places across Europe, the Romanian salt mines have a certain characteristic, according to the SALROM marketing representative Daniela Pop: "These are places that you won't find everywhere in the world. There are salt mines in other countries as well, but they are not so numerous. Romanians are very keen on tradition. They keep the spirit of Christian education alive. In each salt mine from our portfolio we have an altar dedicated to saint Varvara, who is the protector of miners. We have tried to preserve as much as we could from the traditions of Romanian mining. In each salt mine visitors will find leaflets presenting a short history of mining, we want to disseminate information especially among foreign tourists. Most of them come with the purpose of discovering the history of the place, the stories related to salt extraction. I recommend everyone who happens to pass by a salt mine to go down into the mine and spend a few hours in the underground. They will surely feel the benefits of salty air. However, people with health problems should take into account the doctor's orders."
We'll now be heading to northeastern Romania, in the historical region of Bucovina, to visit the Cacica salt mine. The commune of Cacica is located 18 kms away from the town of Gura Humorului and 40 kms from Suceava where salt deposits were uncovered around 1780. The Cacica salt mine was opened to visitors starting in the 19th century.
Ioana Croitoru, a tour guide, will make a short presentation of the salt mine next: "The entire salt mine was carved by hand with the help of hammers and chisels by expert miners from Poland and Ukraine. Everything there is made of salt. Cacica means 'duck' in Polish. The area was a marshland with lots of wild ducks, hence the name of the salt mine given by the Poles. Experts estimate that Cacica has a salt deposit that will be enough for another 500 years from now. Exploitation of the salt in Cacica started in 1791. The mine has a small Orthodox chapel with several sculptures made in salt. At the depth of 38 meters there is an artificial lake on whose borders one will spot salt crystals. Visitors will also notice at the lake a small boat in which miners used to take their kids and grandchildren for a ride. A ball room was carved at a depth of 41 meters where parties used to be organized. The room bears the name of the salt mine's first director general, Agripa Popescu. At 75 meters in the underground there used to be a cheese storage area, given that temperature in the underground is constant, standing at 10 degrees C. Now a sports ground is being set up in the salt mine for those who come for treatment, people with asthma or with various respiratory diseases. There is also a playground for kids."
We hope we have convinced you to contact your travel agent and book a tour of Romania's salt mines.
www.rri.ro
Publicat: 2019-08-22 13:15:00
Vizualizari: 1155
Tipareste