Budget bill, resent to the President for approval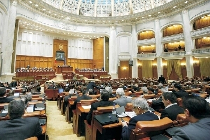 Romania's budget bill for 2019 endorsed by Parliament without modifications
The Romanian Parliament's budget and finance committees rejected, on Wednesday, the request that the President Klaus Iohannis had made a week before, for the 2019 budget bill to be reexamined. Consequently, the bill was adopted without any modifications from its initial version and reached Parliament's plenary sitting for the final vote. Given that senators and deputies followed the model of their colleagues in the committees, the same version of the bill was sent back to the President for promulgation, a version that the head of state defined as a bill of "national shame."
President Iohannis had asked for the bill to be reexamined, as, in his opinion, the budget was based on unrealistic figures and failed to ensure the proper functioning of key public institutions. Moreover, Iohannis has also said that the Social Democratic Party, the main party of the governing coalition, is responsible for Romania's not having a budget law yet, although the deadline was November 2018.
It is also true, however, that in keeping with a pattern of behavior seen by many as having electoral ground, Iohannis, who runs for a second term as president, in keeping with the rights offered by his current position, challenged the budget bill in the Constitutional Court, soon after having received it for promulgation. Since the Court ruled that his appeal was ungrounded, the President sent the bill back to Parliament to be reexamined, which has also delayed its adoption.
Actually, the responsibility for delaying the passing of the 2019 budget should be shared by the power and the opposition, as stated on Wednesday in Parliament, during the heated debates between the governing coalition and the right of center Opposition.
Varujan Vosganian, an MP representing the Alliance of Liberals and Democrats (ALDE) in the coalition, has stated: "In my opinion, the developments of this past month are embarrassing in terms of the quality of the domestic political life. Our President is a pamphleteer. It is clear to us that what Romania's President did was meant to boost his public image. Now, we are talking about a pamphlet, so, we have read it, we thank the president for it and we are sending it back to him for promulgation."
On the other hand, the Liberals argue that the budget voted by the Social Democratic Party, the Alliance of Liberals and Democrats and the Union of Ethnic Hungarians in Romania does not provide enough funds for infrastructure, education and health, sectors that have been declared national priorities.
Florin Roman, a Liberal MP has said: "You have made an electoral budget, a budget from which big sums of money will be channeled to the communes administered by mayors from your party, so that they can mobilize the voters during the election campaign. At the same time, you have dealt a heavy blow to local budgets. Economic directors with the town halls will have to check the bank statements every day to see if they can make payments any longer."
When all the ways to challenge the budget bill have been used up, the law provides for a 10-day deadline for the bill to be promulgated.
www.rri.ro
Publicat: 2019-03-14 14:05:00
Vizualizari: 320
Tipareste